By Captain Scott Kozak • "Chloe Frijole"
After a long and rainy season, a hurricane, and major flooding, the inshore waters off Quepos have cleaned up. The clean water has brought in plenty of sardines for you to catch with your sabiki rig.
For the next couple of months the roosterfish can be caught trolling the surf along one of our many beaches, and on the well formed rock formations. You may also want to try casting a large popper on spinning gear for some fast action.
If you choose to fish the river mouths, a nice snook may be in store for you.
Contact one of the great captains in the Quepos charter fleet for your inshore fishing experience.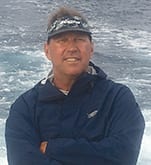 Born in Toledo, Ohio, Scott Kozak started fresh water fishing as a youngster in the Great Lakes, fishing for walleye and perch, and later for salmon and lake trout. Scott moved on to salt water fishing in 2012 fishing for tuna and sailfish on the Atlantic coast. In 2014 his focus shifted to bill fishing in Central America. In 2016 Scott and his family bought a home in Quepos and soon after purchased an inshore charter boat, Chloe Frijole. Scott is an accomplished angler, placing in several billfish tournaments, as well as winning the West Palm Beach Fishing Club international angler award. Contact Scott at captainkozak@gmail.com