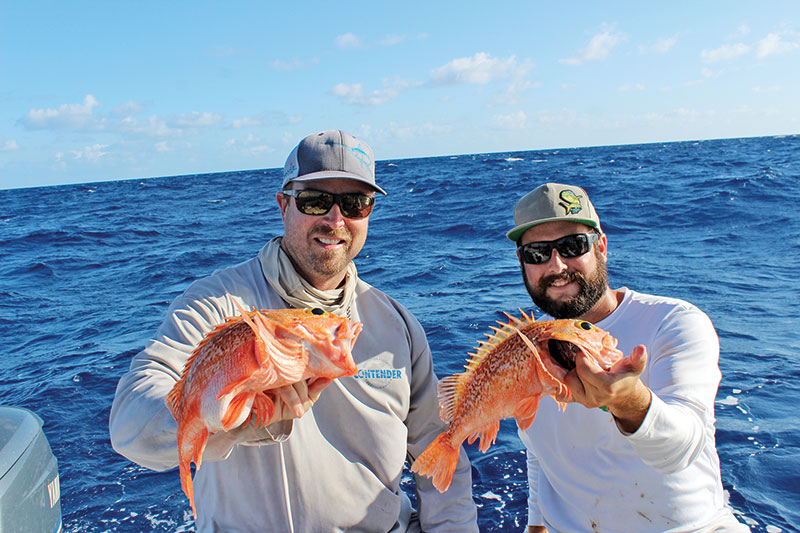 After a week and a half of dealing with the hype, approach and aftermath of Hurricane Irma, all I wanted to do was go fishing. Forget the fact that I needed editorial to fill the pages of the October issue. Getting out on the deep blue sea was all that was going to heal what ailed me. Most of my friends were still dealing with no power and couldn't get away to help me get rid of the worst case of cabin fever that I've ever had. I made one last phone call to my friend Ryan Palmer in hopes that he might get me out for a day of deep dropping aboard his 25 foot contender. He shared with me that there was an issue with his motor and it would not be happening aboard the Family Jewel. There was however, with all clouds, a silver lining. He was planning to head out the next day with a friend of his and told me that he would ask if I could tag along. A few minutes later, he called me back with the news that I could go and that they would pick me up at the Lighthouse Point Marina.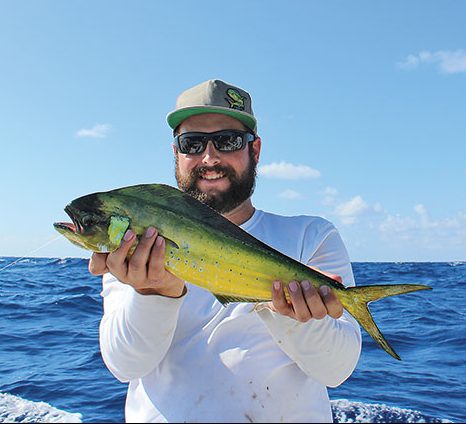 I was so excited that it took forever to fall asleep and woke up before the alarm went off. Arriving at the marina, it seemed like a ghost town as the power had not yet been restored. The only other soul there was the live bait guy. We chatted briefly, but sadly I don't remember his name. Shortly after 7am, Bustin Loose, a 31 foot Contender captained by Randy Stark arrived to pick me up. Randy hopped off the boat in bare feet and greeted me with a big smile and hand shake. I knew right away that I was in good company and was going to have fun, no matter what. We grabbed three dozen pilchards from the bait guy and I hopped aboard. We had to run back south to the Sands fuel dock to get fuel and load up on ice so we didn't make the inlet until around 8am.
The plan was to run offshore in search of some magical debris left over from Irma, but after reaching 800 feet in four to six foot slop, we hadn't found anything. About three miles from good deep drop numbers, Capt. Randy made the call to put out a few jet heads and we would troll to the spot. Almost immediately we hooked up with a few mini football blackfin tunas and the stink was off the boat. Once we reached the spot, we reeled up the jet heads and set up the electric reel for some deep dropping. The first drop produced two of the biggest black belly rosefish I've ever seen. As the bite was clearly on, Ryan set up a second electric reel up on the bow and we threw a single free lined pilchard out on a 20 pound spinning outfit in hopes of a big bull dolphin crashing the party. Over the next few hours, we loaded the boat with black bellies and picked off a tiny dolphin that we released. We were indeed having fun and the thoughts of the Irma experience had vacated our minds.
We then ran back in towards the inlet and decided to put out a few planers with the intention of finding a wahoo or smoker king to complete the day. Greeted by numerous frigate birds and two chinook helicopters returning from relief efforts in the Florida Keys, we were giddy with excitement, but we never got the wahoo or big kingfish bite we were looking for. It didn't matter as we were all happy just to be out on the water doing what we love to do. We did manage to pick off a few snake sized kingfish and several bonito to put a little more blood on the deck and a few more smiles on our faces.
Reaching the dock, we were all thankful to have had the opportunity to look back on the day and know that Irma did not get the best of us. Thank you to Capt. Randy Stark, Austin Copeland and Ryan Palmer for some seriously needed reel therapy.
~ Gene Dyer