Capt. Billy Norris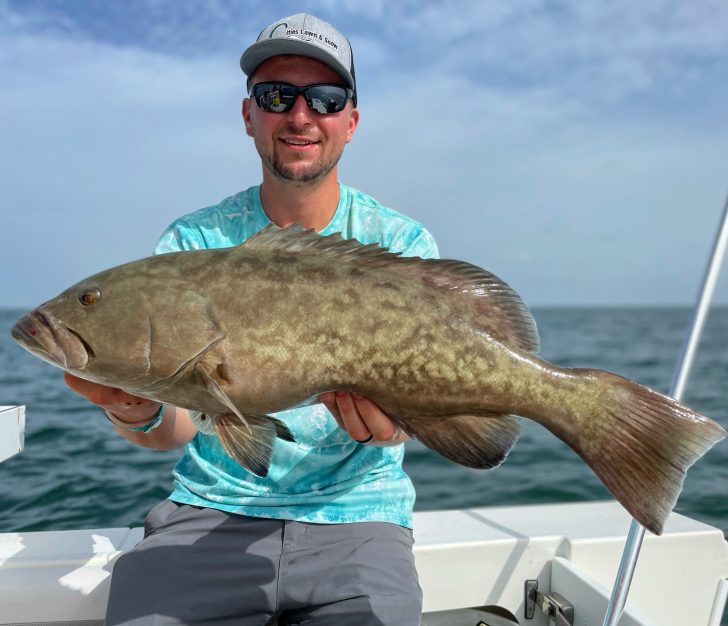 Fishing has been awesome this month!  Although it's still hot, there have been some days that have been a little cooler, hinting that fall is right around the corner.  It's a great time of year to be on the water, as there is hardly anyone else out there.  Several days in this month we've fished without seeing more than one or two other boats during the whole trip.  Bait has been plentiful on the beaches, winds have been relatively calm, and the storms for the most part have held out until the afternoons.  Both nearshore and backwater have been producing quality fish every morning.
Backwater has been best in the morning.  The sun comes up right around 7 this time of year and fishing from 7am-11/12 is your best bet.  Snook tend to love the hot weather, so catching them isn't an issue, especially in the morning or evening.  During the middle of the day it can get a little more challenging, but they will still actively take baits.  Redfish have also been hungry during this time period.  Target them around the oyster bars and mangrove shorelines.  Once the sun gets high in the sky, switching to cut bait can be an effective tactic, as they get lazy in the heat and sit in deeper holes/channels to stay cool.  Bigger fish will be looking for easy meals of opportunity, and a cut ladyfish or mullet can be an enticing meal.  Trout are also in abundance on the grass flats.  Baits worked properly on popping corks have been producing plenty of nice trout making for great table fare as well as a fun day of fishing.
Nearshore has been great as well.  Gag grouper have made their way in closer, and catching gags on the nearshore wrecks has been a go to on many trips.  Mixed in with the gags are goliath grouper in the 20-30-pound range which although you can't keep them, make for a great fight.  Cobia are also cruising the waters close to shore, and they have not been uncommon this month.  Mangrove snapper have also been a staple on this month's trips, and are actively gulping down baits on most of the wrecks/reefs.
At this point, I'm sure everyone is looking forward to some cooler weather that doesn't require anglers to drink an entire case of water while out fishing!  Fall is here and as the water cools we should see the transition to the Autumn fishing pattern.  Kingfish, tarpon, sharks, and the other usual fall suspects will soon reappear, so start getting your gear ready.  If its anything like last year, this fall should be on fire!
-Captain Billy