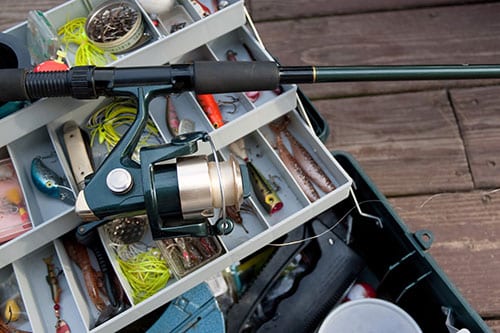 By Matt Mittan
We've officially reached the time of winter where I start getting my spring itch to fish. It starts with the arrival of spring outdoor shopping catalogs. It ends with a dining room table, a folding banquet table and several movable trays covered in lures, lines and various other fishing accessories.
Now I'm not trying to suggest that I fill these spaces with all new gear. Quite to the contrary; I might buy a few new items during late winter months at most, new lines of various strength, usually. I approach this season more like a retailer approaches inventory, but with a lot more enjoyment. Actually, I take that back. It's more like an old trade bizarre or flea market. Let me explain.
It has become the custom in my home that each February all our tackle boxes get emptied out, gadgets get cleaned, hooks are sharpened and lures are shined up. Family members, and invited friends, get their own little corner of the place to do this. Once each person has fully measured and prepared their stock, a good, old-fashioned trade fair begins.
"I'll trade you 2 Spinnerbaits and 6 motor oil colored worms for one 6" Rapala Floater." (A silent pause leads into a steely eyed counter offer.) "No way. If you want a Rapala, you need to throw in some Tru-Turn hooks with those worms too." (Measuring up if there's room to negotiate for a better deal, the trader resigns to the value the plug will bring…) "Deal! Dang it!"
You see, the value for each item – like Stock – goes up and down based upon prior performance and predictions of future yields. If all the biggest fish were caught on Jigs last year, then they will carry a higher value this year. If someone wants to go after a different species during the coming year, they may try to swap lures with other family members for lesser-sought items, in order to find more value for their trades.
Not only does this provide a really fun way for us to prep all our gear for the coming season and get some new toys in our tackle boxes, but it's also a wonderful way to have some fun with varying versions of stories from previous fishing trips. It's so funny to see the way different people can remember the same catch. It goes without saying that, the better you can talk up a tale for any given item, the more you can get for it in trade.
But more than all this, it's quality time with loved ones right smack in the middle of February. No electronics (other than maybe a few pictures to show off collections to our friends), no money changing hands and always lots of laughs, good food and warm memories to lead us into a new season of creating memories. The more years that go by the more fun it gets. A few stories seem to resurface each year, like a folk story of legend, reminding us that we share some common ground where roots begin to run deep.
Not feeling the itch yet? Invite over some friends and family that like to fish. Tell them to bring a covered dish, their tackle boxes and the intent to brag, trade, laugh and grin. Who knows, you might even start a new late winter tradition in your family as well. Roots have to start by someone dropping the first seed. Trade well!
Matt Mittan is a long time broadcaster in WNC, an entrepreneur and USAF veteran who has fished all around the world. He can often be found aboard his classic red Old Town canoe in search of mountain Bass. Matt currently has an insurance business, partnered with AFLAC, providing benefits and tax solutions for area businesses. Email MattsFishingDiary@gmail.com with story ideas or feedback.