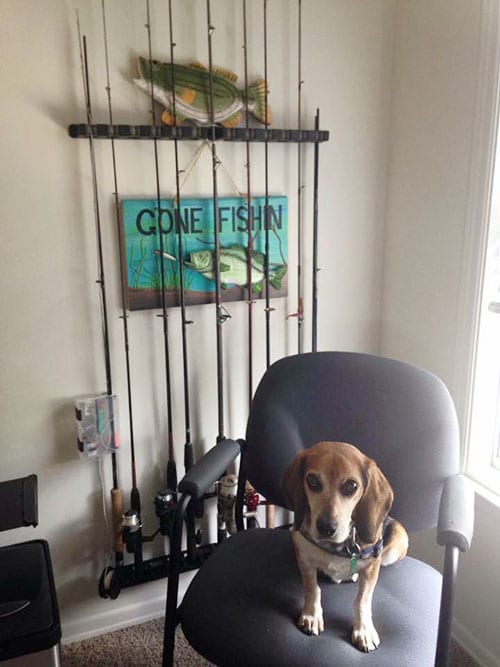 By Matt Mittan
In the Harry Potter series, the "Elder Wand" is the ultimate power to behold. All things can be accomplished by wielding this magical stick. The effects that come forth from it are a reflection of the core of the person who possesses it, for sure.
I just recently watched the movie series with my youngest son. I have to admit that I never saw anything past the second movie before now. I appreciated how, as the series progressed, the maturity of the storylines also grew deeper – and even darker.
But enough of the movie, I just wanted to rip off the Elder Wand reference to write about my favorite old fishing pole… which, for the sake of this column, I will refer to as the Elder Pole.
I've had a lot of fishing poles over the years but there is one that has proven itself over the test of time. It's got a couple of eyes on it that have been repaired with the old dental floss/nail polish trick. The handle padding is worn down to the nub. And there are more stretch marks on its core than… never mind, I won't finish that sentence.
Here's where the magic is. That pole is more like an extension of me than it is a recreational tool. I know every little nuance of it. With the Elder Pole, I can fly across a water surface and land perfectly, up under thick overgrowth, within an inch of the shore. With my Elder Pole, I can see the floor of any water body I am fishing just by the feel of every bump. And with my Elder Pole, I can connect with whatever finds itself pulling on the opposite end of my line. Call it a relationship if you like. I have so many hours with this one stick that it actually seems to have moods.
Am I the only one who feels this way about gear you've had for years and years? There are so many memories wrapped up in it that just picking it up makes me feel the relaxation, excitement, frustration and contentment of every epic experience I've had with it. I also get motivated to find some new adventures.
I feel like, nowadays, it's easy to get caught up in all the new flashy gear and technology available in our sport. So I decided I would take this month's column to encourage you to dig out the oldest, fondest memory item from your tackle and hit the water with it. See how it feels. I think there's a pretty good chance you'll find some magic in it too, as you reflect on the people and places of its past. You might just find your Elder Pole too.
Matt Mittan is the daily afternoon host on Asheville Business Radio 1350 AM, heard Mon-Fri from 4-6pm and podcast on Spotify, iTunes, Google Play, TuneIN Radio and many more platforms.