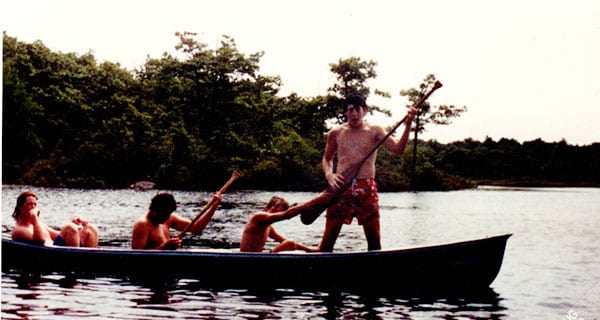 By Matt Mittan
I had to put the old lady down this week. She had given me lots of miles, adventures and memories. I figured this month's column would be my obituary to her. She was never given a name, but let me tell you a little bit about her.
The first boat that I bought was back in the mid-80's. It was an 18-foot, wide bottom, green Coleman Guide Canoe. She was sturdy, light, and could carry four of us in her comfortably. I was even able to stand up and fish in the canoe if there wasn't too much wind.
Me and that canoe had a lot of scares along the way too. I even went over a small waterfall in it one foggy morning. (I swear, that was the quietest waterfall I've ever encountered.) I remember one trip where me and a friend created a rope pulley system on an overhanging limb to lower the canoe down a cliff face, by yet another waterfall. She was a sturdy companion on long wilderness expeditions for me and my friends. On those trips, she often served as the freight boat, carrying all of our collective gear. When we would find a lonely island to camp on for days on end, weeks even. She was the boat that got loaded down with dead wood from surrounding mainland forests. She once got jammed sideways in some rapids, between large, jagged rocks. Still, she trucked on like an old soldier. Looking back, I really don't know how that canoe, or me and my friends, made it through my teen years intact.
As I reached adulthood and moved away, that big old boat was always at home, resting under my parents back porch, waiting for my return. And despite all the carved out scars and scrapes on her underside, she could always be relied upon for a safe and fun filled day on the water.
All that changed a few years ago when I made a trip back home and went to retrieve my canoe from under the porch. What I found was a mangled and twisted wreck of a canoe. The aluminum bar spines were bent, split and deformed. The seats were cracked and broken. The upper aluminum frame rim was gashed, warped and scraped all over.
Needless to say, I was in shock. How….? Why….? Who…? This canoe wasn't just a boat, she was a part of me and my life story. I felt such a sense of violation that someone had destroyed this stalwart warrior of the waterways and then had the audacity to return it to where they took her from.
Well, over the last few years I refused to let go, thinking that one day I might figure out a way, or have the time and resources, to somehow put her back together again. But the truth was, it was a fatal blow that she was dealt. Even her outer hull was torn open. I still struggle to imagine how, with all this canoe had survived, it was so completely obliterated.
But as with many things in life, there comes a time to let go of the material things and cherish the emotional parts – the memories. I have reached that point with this fine old lady. She's on her way to be recycled or re-purposed as I write this. Since that oversized green Coleman was the vessel that carried me so far down the river of life, toward being who I am today, I figured she deserved her own obituary.
Thanks for listening.
Matt Mittan is a long time broadcaster in NC, based out of Asheville. He currently applies his years of experience as a business owner to serve as a Licensed Employee Benefits Adviser to companies large and small across WNC, Eastern TN and the Upstate of SC. You can reach Matt by emailing MattsFishingDiary@gmail.com.