By Mike Hammond
Recently, a person commented to me that there is not much access on the Caloosahatchee River for paddlers. I was surprised by the comment because there are actually many private and public launches open along the river. In addition to several launches written about in previous articles, the Riverside Park, operated by the City of Fort Myers, is one of my favorite access points. In the shadows of the Oasis Condominium high-rises lies this small community park which includes a community center/banquet hall, playground, free parking, port-a-potties, fishing pier and a floating paddlecraft launch. I found the floating dock easy to launch my standup paddleboard from but kayakers may have a bit more difficulty. The distance from the top of the dock to the water creates a significant drop. Because it is a floating dock, high tides will not help ease the process but there is a small sandy beach next to the playground that will make kayak launching easy.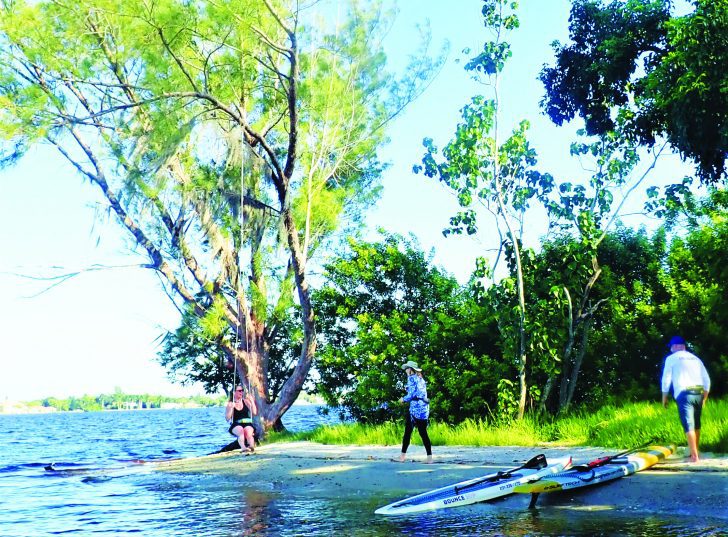 From Riverside Park, it is only about a mile to the City of Fort Myers-owned Clint's Island. The beach on the southwest portion of the island is popular with weekend boaters. It is a great spot to stretch the legs, grab a snack, fish or just relax in the shade of the Australian pines. Many boaters and paddlers are looking forward to this becoming a water-access-only public park. Dave Westra from Lehr's Economy tackle reported snook, redfish, ladyfish and sharks can be caught in the area year round. As the salinity levels gets higher, more salt water species move into the downtown area.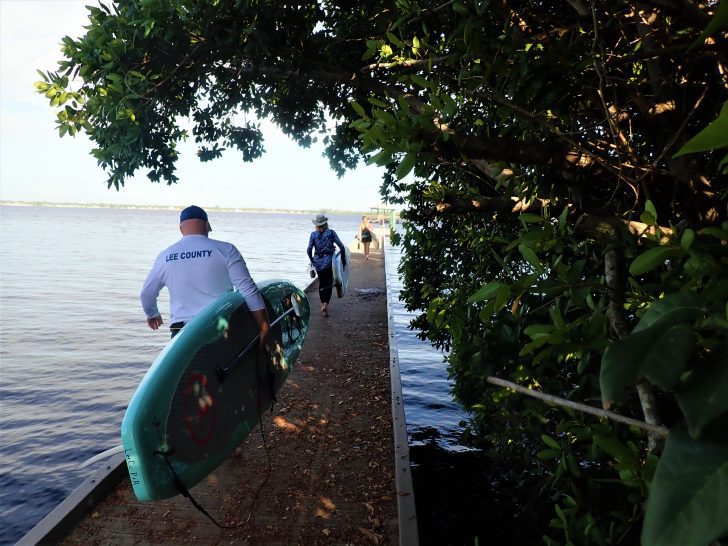 Many anglers target the bridges. Anyone paddling here, be aware of the multi-directional wave action caused by the current, wind and structures. Those little whitecaps we see driving over the bridges are not so little when you are paddling in them. Always check the wind report before doing this paddle. Friends and I were returning to Riverside Park from Clint's Island when we were hit by strong winds last week. We joked about just letting the wind push us down river to the small beach next to Joe's Crab Shack and using an Uber to get back to our vehicles. The joke almost became reality. Beginner paddlers should probably wait until very flat days to paddle this section of the river. The protected creeks around Marinatown in North Fort Myers are a good alternative on breezy days.
Paddlers also have to be aware they are crossing a boating channel. We always check to make sure the channel is clear of oncoming boats and cross as a group straight to the other side quickly. With a few precautions and low wind, this is a very enjoyable paddle with some great fishing. Just pick a good day and have fun!