by Keith Lozott, Contributing Writer
This time of year, is extremely difficult for me to get away and fish, much less go on a trip somewhere.  The weather can be difficult to manage with cold fronts, windy days, rain and then a day or two in between to sneak out if time permits.  I had Christmas, New Years, my daughter's birthday in January and then my lovely bride's birthday in February.  Talk about budget busting times; these are it. But that doesn't stop me from dreaming about or planning my next adventure.  I'm not sure about you but I record numerous fishing shows to learn a bit and get ideas of places I haven't been and would like to go sometime.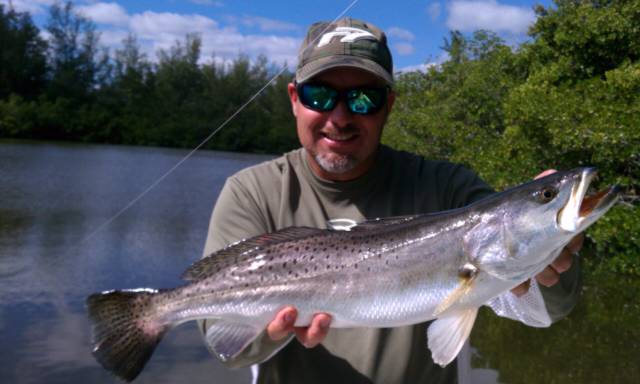 It's like the Johnny Cash hit song "I've Been Everywhere".  Brunswick, Golden Isles, Charleston, Pamlico River, Outer Banks, Neuse River, New River, Wrightsville not Wrongsville, Estero Bay, Boca Grande, Charlotte Harbor, Sarasota Bay, Upper Tampa Bay, Horseshoe Beach, Steinhatchee, Yankeetown, Apalachicola, Port St. Joe, Panama City, Destin, Choctawhatchee Bay (Hard one to say), Pensacola Bay too many to name.  Can you imagine fishing all the locations above? One trip a year will take you 22 years to fish them all and that's just a drop in the bucket of the unbelievable places we can fish as anglers.  We have remote trips, city trips, overseas excursions, family vacations and solo missions.  All I can say is I look forward to one killer destination per year with the guys and at least sneaking a couple days on the water with the family on vacation.  I love spending time with my wife on the water when I can get her to go and hopefully I can get my beautiful daughter fishing and boating soon. Currently the sandbar in the summer is peaking her 9-year-old interest. I must brag that I did put her on a snook in the St. Lucie Inlet and a few mangrove snappers near the sandbar which put a smile on her face that I will remember forever.
The locations above may not be the Amazon peacock bass adventure, Costa Rican rooster fish dream, Panamanian marlin extravaganza or Alaskan halibut blowout, but they are located within driving distance of Florida.  If you have the desire to fish like I do on a reasonable budget, all you need to do is jump in the car, truck, SUV, or camper and hit the road.  These locations won't break the budget and are beautiful places.  I have fished close to, around them and places in between, but haven't been to them yet.  I've researched, mapped out and put many spots on my bucket list to go next and you better believe I will fishing one or many of the spots above hopefully over the next couple decades. Maybe I will see you there one day and we can share a story or two!
Keith Lozott
Fisherman at heart
Real Estate Professional by day!