by Keith Lozott, Avid Florida Angler
If you have the inshore flats fishing addiction like I do then you'll want to keep reading.  Living in Palm Beach County, Florida can be a very "fishy" place, especially when fishing the offshore scene. Inshore fishing for redfish, trout, flounder and more requires some exploration on the angler's part. Cruising a grass flat, in your flats skiff loaded with potholes, tailing redfish and gator sized seatrout are only a "Hop Skip and a Jump" away.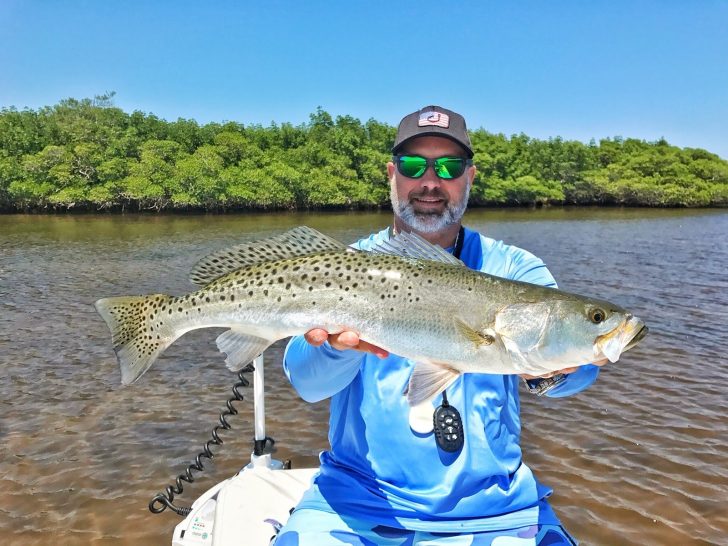 To the south you have the infamous Everglades with a fishing diversity one can only dream of. The Everglades requires local knowledge, powerful bug spray and sunblock. Once suited up hold on to your rod because the snook will crush your favorite topwater lures. The redfish will eat soft plastic lures sight casted in their direction. I love throwing an Exude Dart, rigged weedless, at redfish and watching them light up, run the bait down and peel braided line off one of my favorite spinning rods. Listening to braided line peel off the reel when hooked up, is unmistakable and is music to the avid angler!
To the west of Palm Beach you can run across the state directly to Charlotte Harbor and catch all the redfish and spotted seatrout you can handle. If tarpon are your poison you can't beat this area. Sanibel and Pine Island are very special to me as this is where I got married.  Of course I planned a bunch of fishing action that week, setting a precedent for future fishing trips to follow. These beautiful areas are loaded with redfish, trout, snook and more. The thing to do on the West Coast is to load up with white bait and toss the baits into the mangrove shorelines and flats that hold predator species. I'm an avid artificial bait fisherman and will choose a Chrome Zara Spook Jr. or soft plastic over a live bait any day. Get a local fishing map of the area, look for fishy looking shorelines and hit the water running. Nothing feels better than scouting out an area, putting a plan in place and making it come to fruition.
To the north of Palm Beach look no further than Fort Pierce to get your inshore fishing fix.  Fort Pierce has some of the biggest gator trout in the state.  I fish this area constantly and love topwater baits… All… Day… Long. I caught a 9-10 lb. trout on a Spook Jr. at 2:30pm.  Focus on mangrove shorelines and grass flats. Big trout like the water skinny and redfish will likely be nearby.  Snook are always ready to pounce on a bait and of course the "Indian River Permit", aka, the jack crevalle and ladyfish will always save a slow day of fishing.
Don't overlook booking a guide before going solo. Hiring a knowledgeable guide can really speed up your learning curve when exploring a new area.  Advocate for clean water so that we have beautiful pristine waters for the next generation of anglers that follow in our footsteps.