by Keith Lozott, Contributing Writer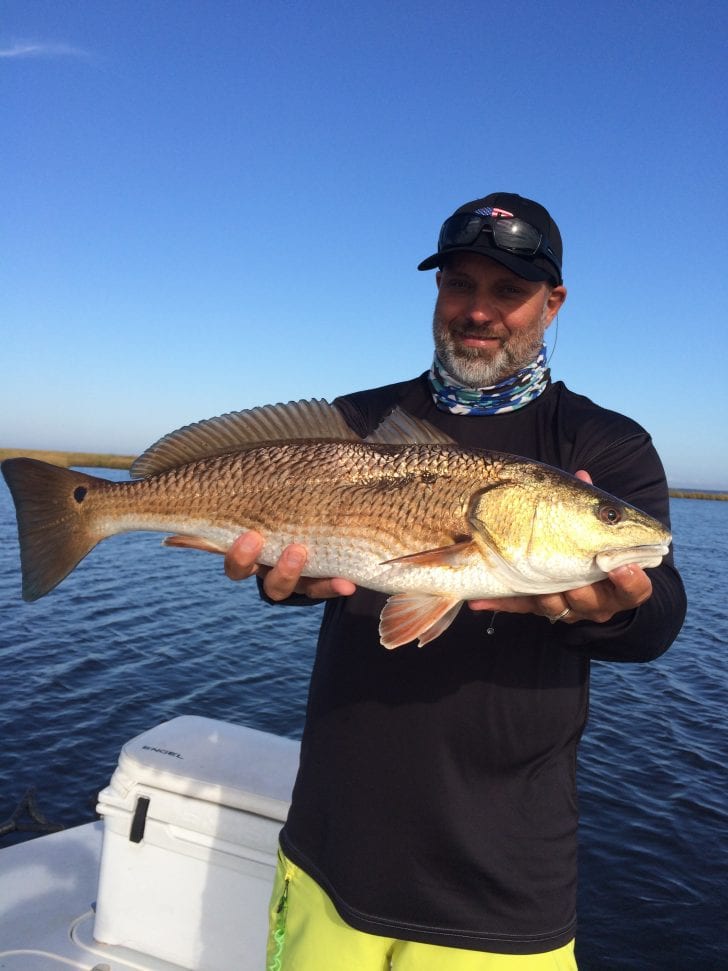 By the time this article is printed and you're reading it I will have come and gone from my second annual trip to Delacroix, Louisiana.  Let's talk about anticipation for a quick second.  I'm two and a half weeks away from takeoff and all I can think about is the awesome fishing we experienced last year.
Driving down I-10 from Florida to the bayou was filled with images in my mind from the hundreds of shows I've watched through the years on fishing Louisiana. The first day was tremendous as I'd never seen the bayou before.  We were running the flats skiff out to find some of the spots the guys had fished in the previous years and it was one of the most beautiful boat rides I've ever experienced.  The shoreline was loaded with Spartina style grasses for as far as the eye could see.  The GPS was littered with little islands, cuts, banks, and cool shorelines that all looked fishy. Various species of sea birds were everywhere, but we kept going to the "spot".  When we arrived at our destination I must confess it looked similar to the million others we flew by on the way out, but I did notice a few things in particular.  The water clarity was much better, the depth changes were noticeable around the creek mouths and the bottom had some sand or harder shell to it as opposed to straight muddy bottom.  We did catch fish on muddy bottom later in the trip, but this spot stands out in my mind probably because it was our first.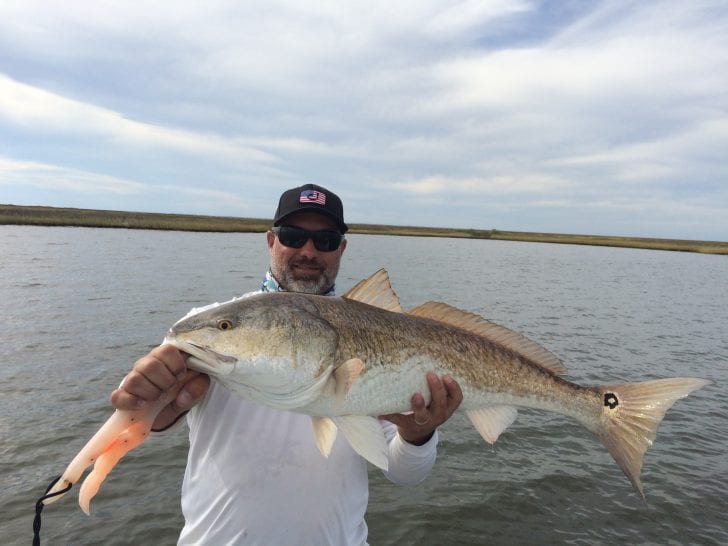 I was so jacked up to fish when we got there because I spotted reds just outside of casting distance, way up in a creek tailing and too shallow for the boat to float.  I had to make a snap decision to exit the boat and catch one on foot.  Full of determination and probably a little stupidity mixed in, I made my way up the creek and made a long-distance cast.  I slowly retrieved a Zara Spook Jr. through the school fish and made six or seven walk the dog motions and it was on!!!  My first Louisiana redfish hooked up on my favorite spinning rod, wading in the Delta like a maniac, with a smile on my face like a kid at an amusement park for the first time.  I was able to land the fish for safe release and a quick show off session to Martin, who was still in the boat. I then realized I was starting to sink into the bottom which wasn't as hard as I thought.  I didn't panic probably because I was still giddy from the catch and release.  I decided to sit down in the water which was cold down low if you know what I mean and dislodged my feet from holes they were in.  Once on the move back to the boat sinking every third or fourth step we couldn't help but laugh at my situation almost having to glide on the bottom like walking on snow to make it back.  I climbed back in the boat grabbed a cold beer and cheered Martin for I had just caught my first Louisiana redfish. To think this was the first day of five to follow.
What a trip!!!  Can't wait to do it again!!!
By: Keith Lozott
Real Estate Professional by day
Fisherman at Heart and Mind