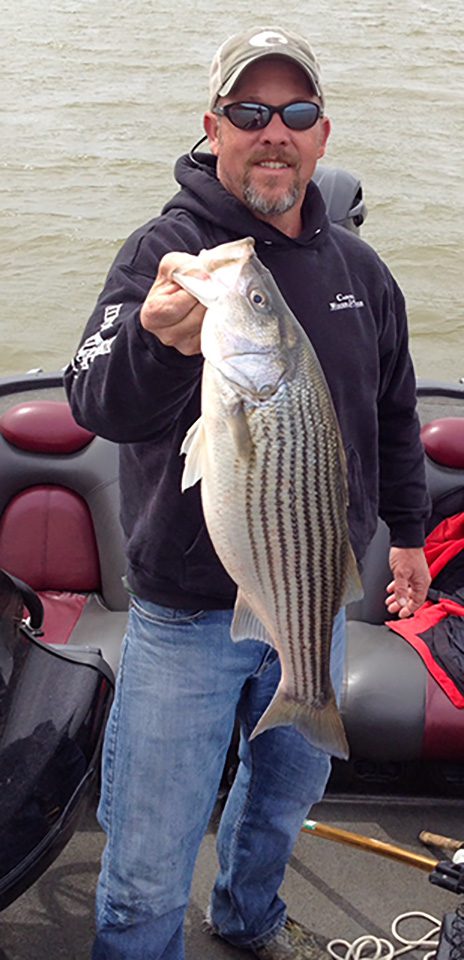 April means it's time to rock in Weldon, N.C., and I don't mean rock music. Unless of course the sound of pulling drag coming from your fishing reel is music to your ears. Each spring, the small town of Weldon, N.C., located just off I-95 in the northeast part of the state, becomes the "Rockfish Capital of The World." This small township is located on the fall line where the Piedmont meets the Coastal Plain and is where the striped bass we call rockfish come by the tens of thousands each spring to spawn. Having spent the better part of the year in saltwater, they return to the freshwater of the Roanoke River in Weldon for this spring ritual.
Rockfish are known as one of the great sportfish of North America, and for good reason. A mature fish can easily top 25 pounds, and when you hook into one the fight in these fish feels like you've got a tiger by the tail. Stout tackle and line are a must to bring one of these fish to the boat.
To find out more about how you catch these fish, I talked to Charles Robinson of Charlie's Striper Guide Services. Charles has been fishing the river all his life and says the fish show up in numbers in Weldon about the time the water temperature reaches approximately 68 degrees. A good visual indicator of this is when the dogwoods start to bloom. There are several ways to catch these fish; artificial Fluke baits bounced along the bottom on a ½-ounce jig head, cut bait fished on the bottom, or Charles favorite, live bait in key fish holding "holes" along the river. Apparently, a live threadfin shad is irresistible to rockfish. In Charles words, "It's like crack to them; they just gotta have it." From Charles' experience, live bait results in catches of consistently bigger fish than any other method he has used.
In springtime, the Roanoke River is alive with fish. It begins in early March with the hickory shad, followed closely by the larger American shad and culminates with the rockfish run. Fishermen from around the world make the trip to Weldon, and it is truly one of the "Bucket List" trips you have to check off the list.
Before you go there are a few things you need to know: 1) A grown rockfish is not a light tackle fish. You'll need to bring some heavier tackle if you don't want to lose a few fish. 2) Striped bass are a managed fish species, and there are size and fish limits that are strictly enforced. 3) Though there are a large number of fish in the river, it's helpful to have someone with you that knows the river if you are going to make the most of your trip.