Tournament: Roland Martin Marine Center Series Q-4
Venue: Lake Okeechobee
By: Ramon Iglesias
Date: Oct 1, 2016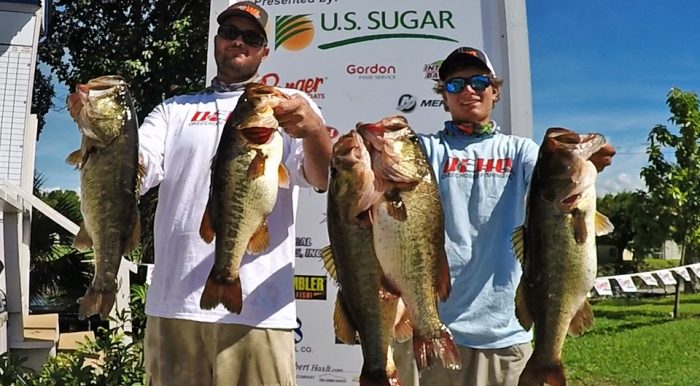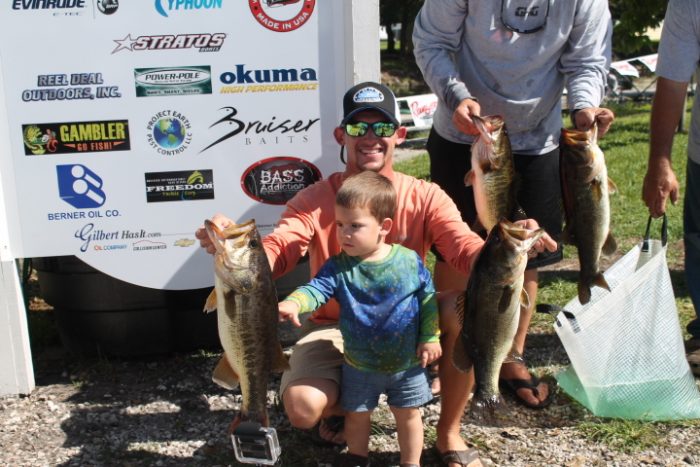 CLEWISTON, FL – The final qualifier (#4) of the 2016 Roland Martin Marine Center Series is in the books and the story of the day is big bass and big checks. Yes, that's starting to sound like a broken record with the highest paying team tournament trail in Florida, but with twenty-pound-plus limits filling out the top 10 and plenty of extra zeros on checks rather than in the livewells, you won't find many complaints here. Play it again Big O!
With the rest of the country welcoming in Fall and saying goodbye to summer, anglers and big-bass fans in Clewiston were treated to mid 80 temperatures, little wind and lots of photo opportunities. And the biggest one came when Kail Stevens and Chis Schirling put over 30 pounds of Lake Okeechobee bass on the scales.
"The first place we pulled up on, both of us had 3 ½ pounders pretty quick," Stevens said. "We thought it was going to start going off from there but it slowed down on us around 11 a.m. with about 24 pounds. We thought, this isn't going to win. Everybody has been catching 30 pounds. This ain't enough."
"We were flipping reeds all day with a black and blue jig and beaver," said Schirling. "Then we went back to our previous stretch the last hour and Kail put two good ones in the well to seal the deal."
With a total weight of 30.91 lbs., Stevens and Schirling also found a $5,000 check with their names on it. To sweeten the pot, Bass Addiction threw in a $150 gift certificate.
In second place with 24.35 lbs. was the team of Donny Bass and Mike Meisenheimer. No stranger to the bountiful payouts of Lake Okeechobee and the RMMC Series, Bass is the reigning champion of the Series.
"We had a small limit early within the first hour," Bass said. "We were punching mats all day long with 1 ½ to 2 oz. weights from Hawg Tech with dark plastics. We did have a chance at 30 lbs. with both of using losing a couple nice ones."
"It was a grind," said Meisenheimer. "I was a fill in since Donny's partner couldn't make it but it worked out in my favor."
With a second place check for $2,000 and an additional $500 going to Bass for his 7.72 Big Bass of the day, Meisenheimer and Bass made the alternate connection pay off.
Rounding out the top three with a little over 23 pounds was the father and son team of Brian and Brice Powant.
"We caught most of our fish flipping," said the 13-year old Powant. "But we picked one up casting as well."
"We were throwing a Reaction Beaver and Gambler Ugly Otter in Black and Blue," the elder Powant said. "I had a chance to practice yesterday but scrapped that early and we ended up catching them from the North end."
Their total weight of 23.25 lbs. was good enough for $1,300. The Gambler 2nd big bass check for $100 went to the team of Steve Lake and Kevin Lake along with $100 Reel Deal Outdoors 15th place finish gift certificate.
With the top nine teams bringing in 20 pound plus limits, the fourth and final qualifier of the 2016 Roland Martin Marine Center Series continued to reward the anglers and big-bass fans gathered in Clewiston for the weigh-in.
First Place: Chris Schirling and Kail Stevens, 5-fish, 30.91 lbs
Second Place: Donny Bass & Mike Meisenheimer, 5-fish, 24.35 lbs
Third Place: Brian Prowant & Brice Prowant, 5-fish, 23.25 lbs
Big Fish: Donny Bass & Mike Meisenheimer, 7.72 lbs
Next Tournament will be the Classic to be held on Dec 10-11.