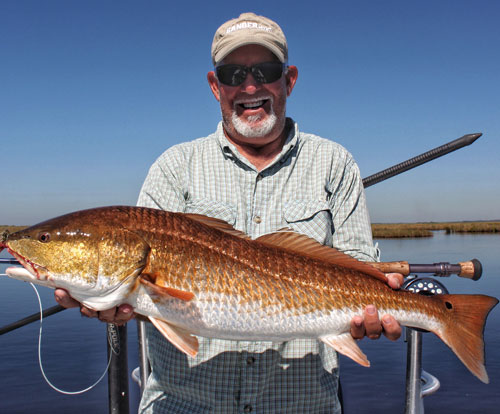 We just finished up the 42nd annual Houston Fishing Show just in time to shift gears back into sight fishing the Sabine National Wildlife Refuge. The "refuge" as I like to call it for short is open for recreational fishing from March 15 to October 15 every year. It is 124,511 acres of pristine marsh environment that offers the outdoor enthusiast an ample amount of opportunities.
I am blessed to live close by and utilize the refuge to satisfy my sight fishing addiction for redfish. I primarily opt for my Temple Fork Outfitters fly rod when perusing the shallow marsh on the stalk for the next redfish to sling a fly at. Finding a redfish to cast at typically is not a problem however, fly placement and presentation is paramount as well as fly size and color. Most of our casts are relatively short in the confines of the bullwhip, cattails and salt grass. Hooking 28" and better redfish become very sporty when they go screaming under the boat after being hooked in such tight quarters!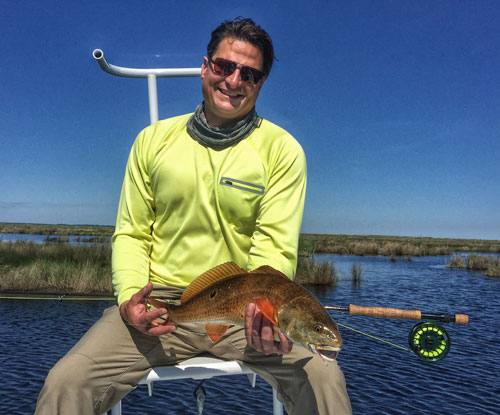 We generally tend to tie all of our own flies, which in turn give even a higher level of gratification after landing one of those marsh pumpkins. If tying is not your forte then Fishing Tackle Unlimited as well as Orvis offer a pretty good selection to get you started. I prefer smaller shrimp and crab imitation flies and I am especially fond of shrimp sliders. My go to color is without a doubt pink with gold flash. I rarely use much more than chain bead eyes for weight, as the majority of the marsh I am fishing is very shallow with a large amount of grass.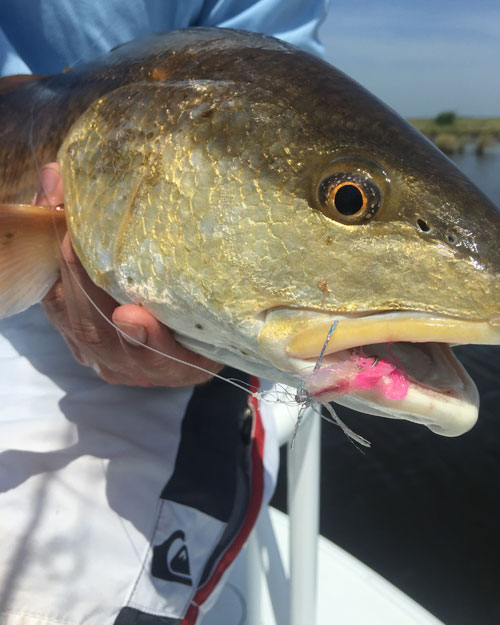 As far as the "spot and stalk" approach I absolutely recommend poling in a skiff. I am currently using a Yellowfin skiff however I have my eyes on the new Sabine Skiff by Brian Little. Hopefully he will be in my neck of the woods very soon so I can catch a ride in one. These fish can be caught on trolling motor but also can be very spooky at times. It's also much easier to glide over the grassy bottoms using a push pole versus a trolling motor. For these reasons I prefer to use the push pole. A quality casting platform aids the angler in spotting these redfish from a distance allowing them to prepare for a cast.  As with sight casting anywhere, ample sunlight is vital to allowing us to spot these redfish from a considerable distance. We are generally capable of still being successful despite windy conditions due to the tight quarters that we primarily fish as long as there is ample sunlight.
If you are looking for an adrenaline rush sight fishing redfish then I would definitely consider giving the Sabine National Wildlife Refuge a shot! The peacefulness and serenity of the marsh alone are worth the cost of admission.
Capt. Adam Jaynes  |  www.justfishsabine.com  |  409-988-3901