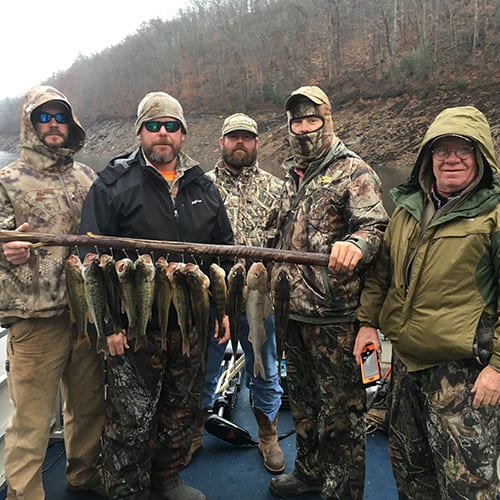 By Ronnie Parris
Santeetlah Lake was created in 1928 when Alcoa dammed the Cheoah River. The lake boasts 76 miles of shoreline, which is surrounded by some of the most pristine wilderness in the Smokies. Santeetlah is located 6 miles northwest of Robinsville, NC. Santeetlah has 4 major boat access points: Cheoah Point, Avey Branch, Massey Branch, and Lake Santeetlah Marina. Santeetlah is also one of the only lakes in our mountain chain that has a man-made beach blocked off from boat traffic so the kids can play without worrying about passing boaters.
Santeetlah has a pretty diverse population of fish species including Largemouth and Smallmouth Bass, Crappie, Walleye, Bream, and Rainbow, Brown and Steelhead Trout. Santeetlah has some of the best wintertime fishing to be had. The bass will usually be close to the bank and can be taken on a verity of artificial lures. What I usually do is watch my graph and if I'm marking fish deep, I will either drop a live minnow to them or fish a mini fluke on a 1/16 ounce jig head.
Key to catching fish this time of year is working your lure, or live bait, as slow as possible. Don't expect the fish to be real aggressive, as the water is cooling rapidly and the fish feed slower, but are usually consistent. If you can try to plan your trip on the front end of a weather change, as fronts move in and the pressure drops, the bite will be awesome.
Santeetlah has different rules on keeping fish – you are allowed to keep as many Largemouth and Smallmouth (under 14 inches) as you want. You can also keep 5 fish per person 14 inches or over. In my opinion, this is a mistake on the wildlife's part as keeping unlimited numbers of small fish may increase the overall size of the bass and could reduce the numbers of fish too dramatically in the long run.
Walleye anglers are not left out on Santeetlah. Some really good catches come from the main body of the lake this time of year, Trolling seems to work best for me but vertical jigging can produce just as well. When trolling, I usually use spoons and Alabama Rigs. Rapalas and Shad Raps are also hard to beat. Pay close attention to your trolling speed as you won't get a lot of hits if you go faster than 2 mile per hour. For those Walleye anglers who would rather jig, locate a good school and drop a Rapala Ice Jig, Hopkins Spoon, or a Mann-O-Lure and you're sure to connect. Look for points that run out into the main channel. Sometimes you will have to look as deep as 70 feet. I like my lure jigged about 5 feet above the fish as a Walleye usually attacks its prey from below.
Wintertime lake levels usually do not drop much on Santeetlah like they do on our other mountain reservoirs, so you shouldn't have trouble getting your boat in. Be sure to wear layers of clothing because, as the day heats up, you can always take some off. As always, be sure to take care and not throw your trash in the water. Nothing is more aggravating than to be on a beautiful lake and see trash floating in the water. If anyone would like to book a trip on Santeetlah or just needs some information, give me a call at 828-488-9711 I will be glad to help in any way I can.
Ronnie Parris is the Owner and Head Guide of Smoky Mountain Outdoors Unlimited-Fontana Lake Fishing Guides, headquartered in Bryson City, North Carolina, heart of the Great Smoky Mountains. www.smokymountainoutdoorsunlimited.com