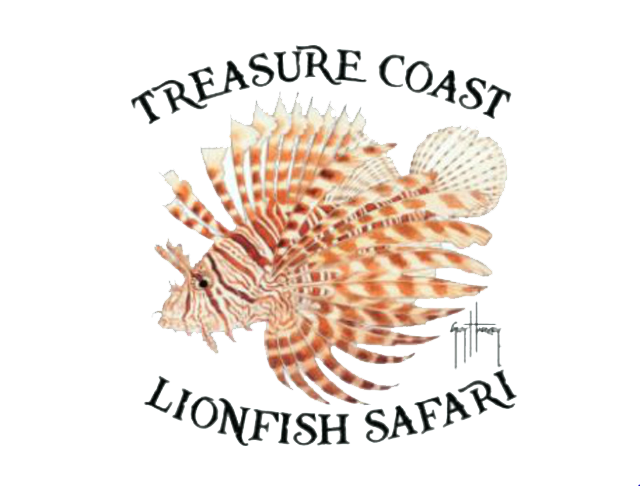 [dropcap]T[/dropcap]reasure Coast water enthusiasts, get ready, the third annual Treasure Coast Lionfish Safari is set for Saturday, May 16 and Sunday, May 17, and will be held at the Ft. Pierce City Marina. This is a "lionfish only" event, and registered teams, in any waters within the Treasure Coast off Indian River, St Lucie and Martin Counties, can take lionfish without a permit.  This year's event aligns with the first annual Statewide "Lionfish Removal and Awareness Day" promoted by Florida's Fish and Wildlife Conservation Commission and the Guy Harvey Ocean Foundation.
The Captain's meeting will be held at 6:30 p.m. on Friday the 15th at the Old City Hall, Fort Pierce with the event commencing at sunrise on Saturday the 16th and the first weigh-in will take place on Saturday at 5:00 p.m. The competition continues at sunrise on Sunday the 17th with the final weigh-in and awards ceremony at 3:00 p.m. on Sunday. There will be winning categories for teams bringing in the "Most", "Largest" and "Smallest" lionfish. And if you are not a diver, don't miss the competition weigh-in, live music, lionfish-tasting, and local marine artists both days of the event.
Sponsors include: Guy Harvey Ocean Foundation, LandShark, Deep Six Watersports, Varsity Sport Shop, Florida Fish and Wildlife Conservation Commission, Florida Institute of Technology, Titos, Smithsonian Marine Station at Fort Pierce, Zookeeper LCU, Florida Sea Grant, and others.
Hosted by Ft. Pierce City Marina, Marine Cleanup Initiative Inc, www.lionfishharvester.com, local lionfish hunters, and Team Frapper, sponsors and vendors are still being sought.
For more information and additional safari details, visit www.TreasureCoastLionfishSafari.com.