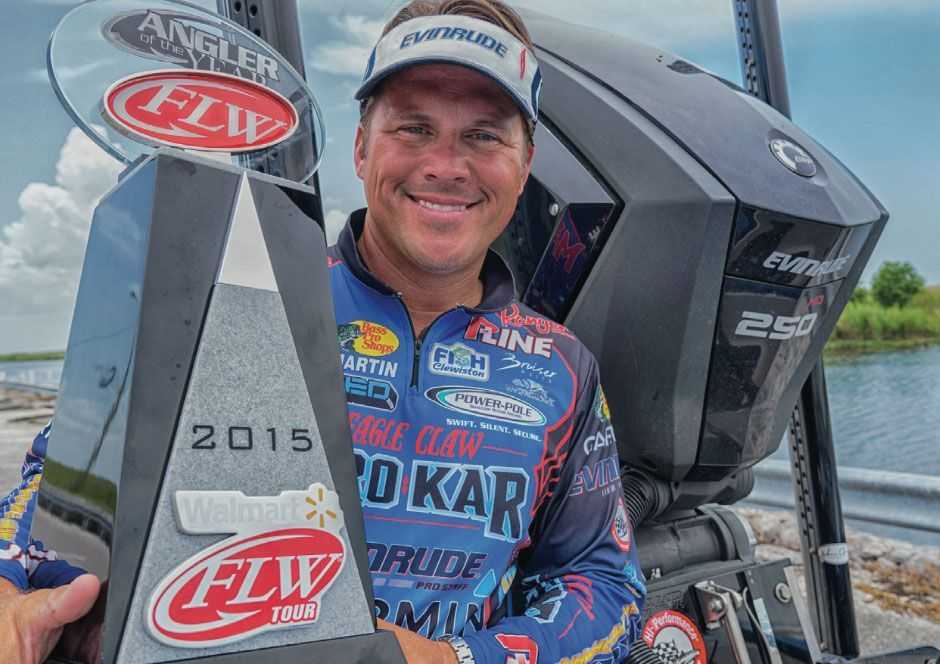 For the first time in his storied career, pro Scott Martin of Clewiston, Florida, wrapped up the 2015 Walmart FLW Angler of the Year title on Saturday July 11th. He narrowly edged out pro John Cox of DeBary, Florida, in a tightly contested race that thrilled fishing fans throughout the season. The title is determined by the most points accumulated over the six Tour circuit. Martin, who clinched the first Angler of the Year title of his career as well as a check for $100,000, also will receive an automatic berth into the 2016 Forrest Wood Cup.
Though Scott had no wins this season, with five top 20 finishes and 1,1110 points by the end of the third day on the Potomac, he was able to jump from third place and overtake the leader to bring home the AOY.
Despite a slow season start at Lake Toho where he finished 44th in the field, by sticking to his strengths of fishing spawning bass and grass-fishing, Scott was able to mount a strong comeback and overtake the field on the last day. Scott's totals for the Tour were:
Lake Toho in Kissimmee FL, finishing 44th with a weight of 24.6-lbs on 10 fish.
Lewis Smith Lake in Jasper AL, finishing 5th with a weight of 60.12-lbs on 20 fish.
Beaver Lake in Rogers AR, finishing 16th with a weight of 31.15-lbs on 15 fish.
Lake Eufaula in Eufaula AL, finishing 11th with a weight of 43.15-lbs on 15 fish.
Lake Chickamauga in Dayton TN, finishing 15th with a weight of 53.6-lbs on 15 fish.
Potomac River in National Harbor MD, finishing 6th with a weight of 52.9-lbs on 20 fish.
Next up for Scott is the Forrest Wood Cup to be held from August 20-23 on Lake Ouachita in Hot Springs AR. With one Forrest Wood Cup already under his belt, Scott could be the first ever to win the event twice. We wish him the best of luck and 'tight lines.'