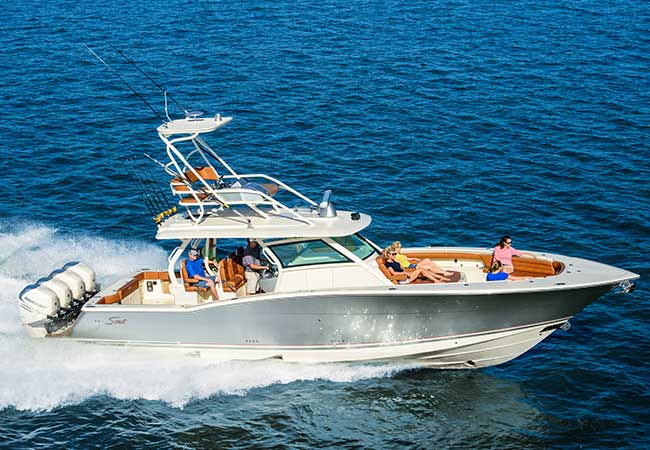 Scout Boat's flagship, the 420 LXF is a landmark luxury center console.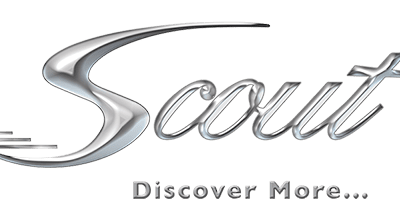 By CAM Staff
Back in the mid-1980s, Scout Boats founder and CEO Steve Potts was a plant manager with boat builder American Sail. He had been in the industry since the age of 14, and he knew that one day he would be building his own boats.
Steve Potts and his son test out the original 14-foot Scout.  Steve Potts first build was a small 14-foot fishing boat with immaculate attention to detail.
Scout is a true American success story. Working side-jobs, weekends and nights, Potts managed to save up $50,000 and launched his company in South Carolina. The first boat he built was a modest 14-foot fishing boat. It was a simple, functional skiff-like craft. What set it apart was extreme attention to detail and craftsmanship. Dealers and boaters noticed the fine fit-and-finish, even on a little fishing boat. It became very popular across the Carolinas and beyond.
With those first boats, built in garages and barns, Potts began constructing the reputation that followed Scout Boats as it became one of the world's most successful boat-builders. From humble beginnings, Scout Boats has grown immensely and now offers a full line up of finely crafted and innovative inshore, bay and luxury offshore boats. Throughout the company, a culture of integrity ensures quality products and outstanding customer service.
Take for, example, Scout's flagship, the 420 LXF. It is a 42-foot luxury center console that is truly a landmark for the marine industry. No stone was left unturned in the design and development of this beauty. Its Epoxy-Infused hull using Carbon/E-Glass provides improved superior structural stability, strength and a Class A finish for unsurpassed performance. There are countless unique features never before seen on a model like 420 LXF. With quad outboards and up to 1,675 max hp, it is a fishing machine laid out with the luxury of a yacht.
That's the idea behind Scout's entire line, to build fishing boats with meticulous commitment to craftsmanship and design that allows them to be extremely functional fishing platforms that are low-maintenance, durable and as comfortable and beautiful as they can possibly be.
The commitment to excellence paid off as the world climbed out from under the Great Recession of 2008. While the boating industry was reeling due to the economic instability of its customers, Scout Boats launched 18 new high-end models. The company saw multiple years of 25 percent annual growth.
With today's economy chugging away and growing, the customer base for world-class boats is stronger than ever. That's good for Scout, and it's good for you—the angler who is finally in a position to purchase that dream boat.
A decade ago, taking on boat payments was a frightening thought. Now that things have stabilized, buying a boat is a worthwhile investment in your quality of life. And when it comes to producing quality on the water, Scout Boats has the market cornered, whether it's a 17-foot bay boat or a 42-foot center console.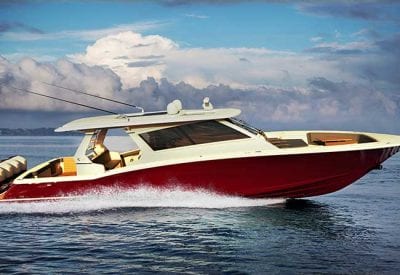 To see all of Scout Boats finely crafted vessels, go to www.scoutboats.com.