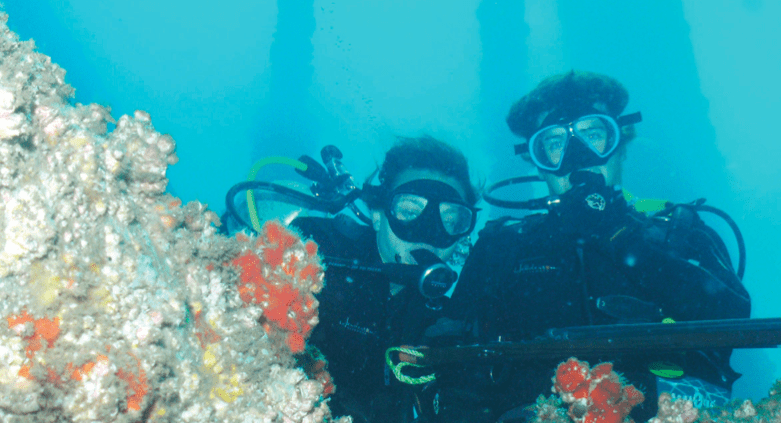 Capt. Lawren McCaghren
[dropcap]W[/dropcap]ith iPods, smart phones and computers being in every room in the modern home (and most people's pockets); face-to-face communication among family members is becoming a rarity. It isn't uncommon for kids to text a sibling that is only steps away in another room!
In this age of digital communication, parents are desperate to find family activities that everyone is enthusiastic about participating in as a family.
Water is a great "equalizer" among groups. A family can have many different strength and ability levels and still enjoy being underwater together. One thing I have noticed about snow skiing families is that they have discussions over breakfast about where everyone is headed and what time to meet back up for lunch. The good skiers are bored hanging out on the bunny slope and the new skiers are scared on the more challenging runs. The result is they all go to different areas of the mountain based on their experience and skill level. This isn't the case with diving. All family members can be diving together on the same reef and get something different out
of the experience.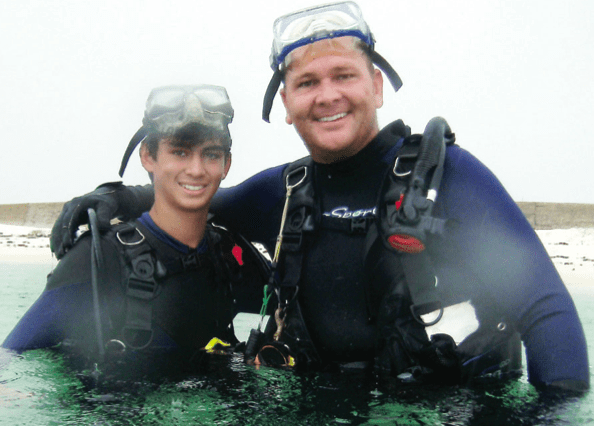 All interests can be fulfilled on a single dive. The excitement and adrenaline of spearfishing for teenagers, the challenges of capturing good underwater digital pictures for dad, and the quiet and tranquility for mom.
Even hunting is mostly a solo activity. Fathers and sons that hunt together can develop many fond memories, but the activity usually takes place alone in a tree stand or blind with little communication. I love to see kids dragging their parent, brother or sister over to a section of reef to see a critter they "discovered" hiding under a ledge. A common sight on our dive excursions is an excited family flipping the pages in our fish identification books to find a picture of that particular fish they encountered.
Outside interests that are shared amongst family members usually tie that family together as they grow. We have countless stories of families getting certified to dive for a single vacation and discovering a new weekend recreation. When they return from an exotic locale they come by the dive shop and share their excitement, pictures and memories. The next words out of their mouths are, "tell us about local diving".
Diving is a recreation that can be shared by all and enjoyed for a lifetime. We have many customers that represent 3 generations of family members diving together and developing memories that will truly last a lifetime.
For more information on scuba training for your family, call Gulf Coast Divers at (251)342-2970 and get ready to spend some quality time with your kids… underwater. Be the parent that takes your kids in the aquarium, not just to it.