By Capt. Sonny Schindler:
Catching your first billfish is something an angler will never forget. Shooting a banded duck will most certainly stick in the mind of the hunter who pulled the trigger. It is these moments that we as outdoorsmen live for. But what happens when the same thing happens twice?
November 27, 2009, and February 18, 2011, are two dates that Bay St. Louis, native Captain Brian Gagnon will never forget. On these two dates, 16 months apart, he caught the same red fish, at the same location, on the same bait!
Catching redfish is not a huge deal for Capt Brian Gagnon. He fishes more than anyone I know on his days off. Did I mention when he is working, he is a charter fishing guide? Brian runs a pristine 72-foot chandelier mother ship named the Southern Magnolia. He has been guiding fishermen to the Chandelier Islands and Biloxi Marsh since 2004. He has caught thousands of redfish in his lifetime, but never the same one twice.
With the exception of my older brother, I have known Brian Gagnon longer than anyone else in my life. We went to the same daycare, we were neighbors growing up. We went to high school, and college together. Trust me, WE HAVE MET! Knowing him literally my entire life, I don't think he has ever told me a "fish story." He would rather truthfully say he went fishing and caught nothing, though seldom the case. He just takes pride in the fact that he was out on the water.
Both times he caught the fish he took pictures with his phone and sent them to me. The fish is very distinguishable because of the number and pattern of black spots on it. This was the "thing" that made it stand out for him. He had never caught a bull red with such a unique spot pattern. Catching the fish once made it memorable, but twice made it legendary.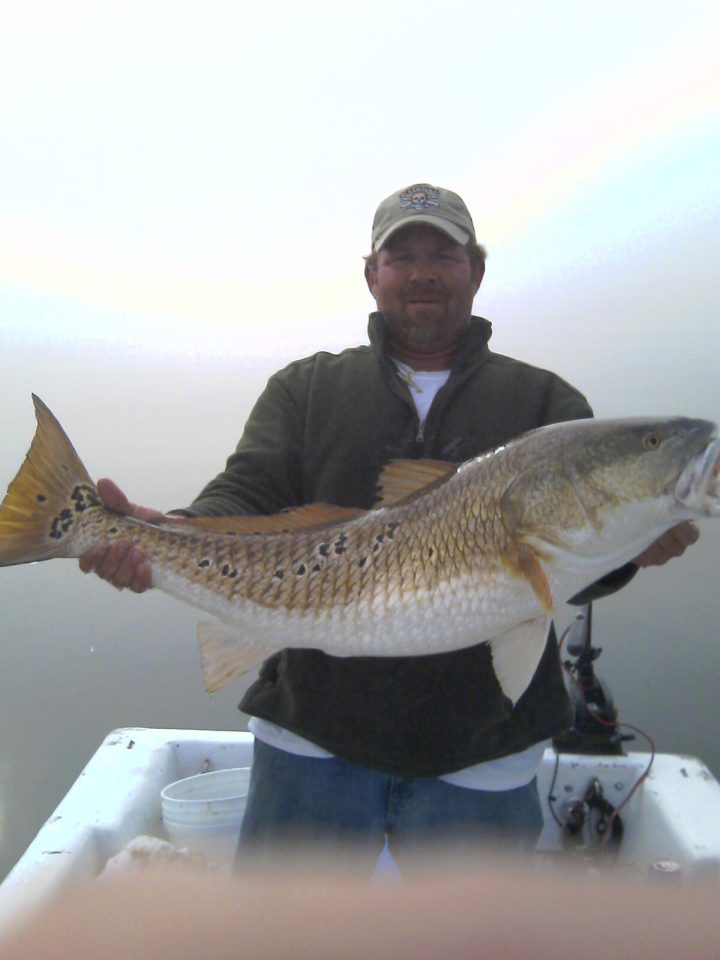 "Everything was the same, except for the time of year," Gagnon admitted when asked how he caught the fish for the second time. "I was in the same skiff, fishing Taylor Reef (near the mouth of Bay St. Louis), fishing with my buddy AJ Pace. Pace, also a captain, took the picture of the fish both times. We did not do anything we should have the second time though. We did not measure it or weigh it. We were just blown away to see that fish again." The first time Gagnon and Pace caught and released the big red, the fish was measured at 35 inches. Capt Brian admitted, "the fish looked in great shape this last time, and looks to have put on some weight." Since the fish was caught pre and post-spill, it gave Capt Brian hope for the future. "It was such a relief to know that fish has survived since the BP Oil Spill. Hopefully, this is a sign that they knew to get away from that oil. It was a big deal for me to watch that fish swim away this last time."
As far as the artificial bait used to catch that fish both times, he was tight-lipped on that. I was impressed he told me where he caught it. He did, however, have a message for anyone who might catch the hefty red in the future. "Let that fish go, it is mine and we have a history, it deserves to fight another day."
Captain Sonny Schindler
Shore Thing Fishing Charters
Bay St Louis, MS
228-342-2295
www.shorethingcharters.com