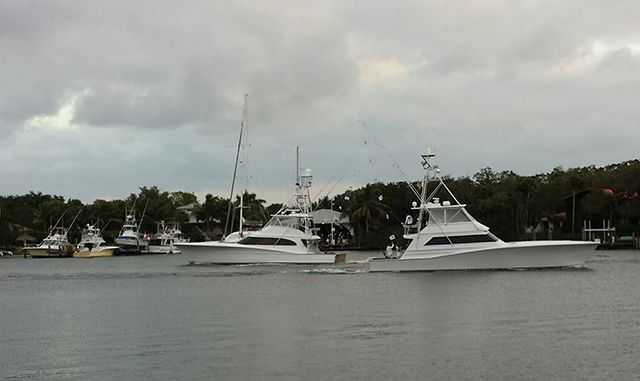 By: Ed Killer, TCPalm.com
PORT SALERNO — The 26th annual Pirates Cove Sailfish Classic offered the fleet of 17 boats a little bit of everything weather-wise. There was a sunny day, a gray, overcast day and a day with a little rain. One day was warm, one day was cool and one day was perfect. There was a calm day, a Chamber of Commerce day and day that saw the seas get pretty snotty pretty quick.
But through it all the trolling for sailfish action remained remarkably consistent.
Each day, the catch total increased by 10 sailfish releases so the fleet wound up with 162 overall – 44, 54, and 64 on Dec. 5, 6, and 7, respectively. Another item that remained consistent – the fishing team aboard Showtime!
On the Treasure Coast the past two sailfish tournament seasons, no team has been hotter than the team fishing aboard Sailfish Point residents' Fred and Nancy Hardwick's 62-foot Spencer. Dec. 7, the team did it again, winning the Pirates Cove Sailfish Classic for the second straight year. The team finished with 21 sailfish releases overall.
But Showtime!'s Capt. Wink Doerzbacher knew that in order to finish at the top, they had to make the most of their opportunities all tournament long.
"Our guys did a fabulous job — as they always do — catching everything they saw," Doerzbacher said. He said the team caught and released seven of the eight bites they had and had a similar percentage throughout the entire weekend.
"When the team isn't missing bites, it's great, but it doesn't always work that way," he said.
Blu Frog with Capt. Mike Croke and anglers David Ide, Greg Bennett, Darin Tonks and marine wildlife artist Carey Chen won Sunday's daily award with eight sailfish releases. Showtime! and overall runner-up Krazy Salts led by Capt. Keith Greenberg caught seven sailfish. Krazy Salts finished with 17 sailfish overall. Vintage wound up in third place with 15.
Showtime!'s relatively stable roster of anglers and crewmen have been one reason why the team has jelled so easily, Doerzbacher said. Fred Hardwick of Sailfish Point was joined by teammates Tom Russell, Mark Schwartz and Jon Meade.
Hardwick said Sunday's action was much different than Showtime!'s Saturday.
"It was kind of a slow start for us (Sunday)," Hardwick said. "I don't think we had a bite until about 11 o'clock. Then we had a consistent day with a couple of flurries, and it came out all good in the end."
Hardwick said it's important to be able to follow up a day like Saturday with a day like Sunday in order to come out on top.
"These events are won by one or two sailfish — not 10," he said. "You have to make the best of it when they come."
Many of the boats fished in the same vicinity Sunday — well to the north of Stuart. Doerzbacher and Croke were both in 130 to 140 feet of water and about 10 miles northeast of the Fort Pierce Inlet.
Scott Adams of Krazy Salts caught 10 of his team's sailfish to earn the Classic's top male angler award. Allison Wigley, of Piece O'Work, led by Capt. Mike Everly, won the top female angler award with six sailfish releases.