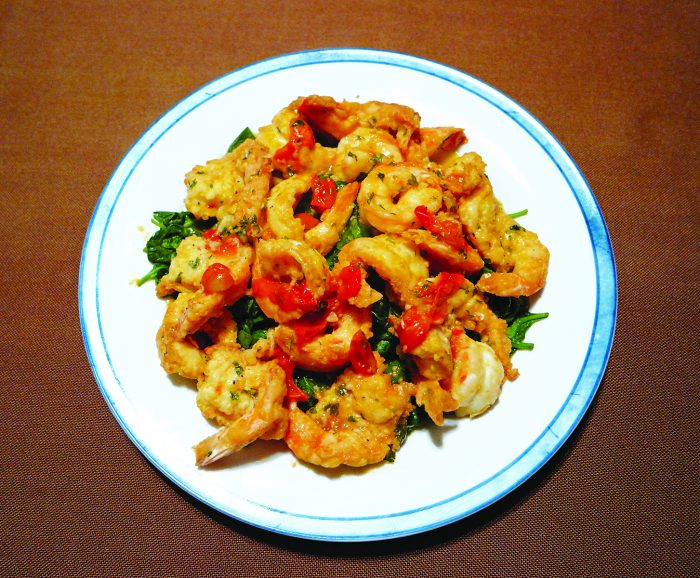 By Janet Kunde 
The winter has arrived and my husband enjoys going shrimping. This year, shrimp is the word for what he has caught, as in small. Thank goodness Golden Rule Seafood is not far. Enjoy!
• 1¾ lbs extra-large shrimp peeled & deveined (about 20)
• 4 large eggs
• Kosher salt & ground pepper
• 2 tablespoons finely chopped fresh parsley
• Pure olive oil for frying
• 1½ cups all-purpose flour
• 2/3 cup low sodium chicken broth
• ¾ cup dry white wine
• Juice of 1½ lemons
• 1 cup cherry tomatoes halved
• 4  tablespoons unsalted butter, cut into small pieces
• 1 large garlic clove finely minced
• 2 5-ounce packages baby spinach
Butterfly the shrimp and pat dry. Whisk the eggs with 1 teaspoon salt, 1/2 teaspoon pepper and 1 tablespoon parsley in a bowl. Heat about 1/8 inch olive oil in a large skillet over medium-high heat. Put the flour in a shallow bowl. Working in batches, dredge the shrimp in the flour, dip in the egg mixture and add to the skillet cut-side down; fry, turning until lightly browned, about 3 minutes. Transfer to paper towels to drain. In a separate small skillet sauté the minced garlic until just heated through, do not brown. Pour out any oil from the skillet and wipe clean. Add the broth, wine and lemon juice and bring to a boil over medium-high heat. Add the tomatoes and cook until the sauce is slightly reduced, 4 minutes. Push the tomatoes to one side; whisk in the butter a few pieces at a time. Stir in the shrimp and the remaining 1 tablespoon parsley.
Season spinach with salt and pepper and steam it 3-5 minutes.  Serve the shrimp over the spinach and top with the sauce. For a heartier meal add a small pasta or rice on the bottom.