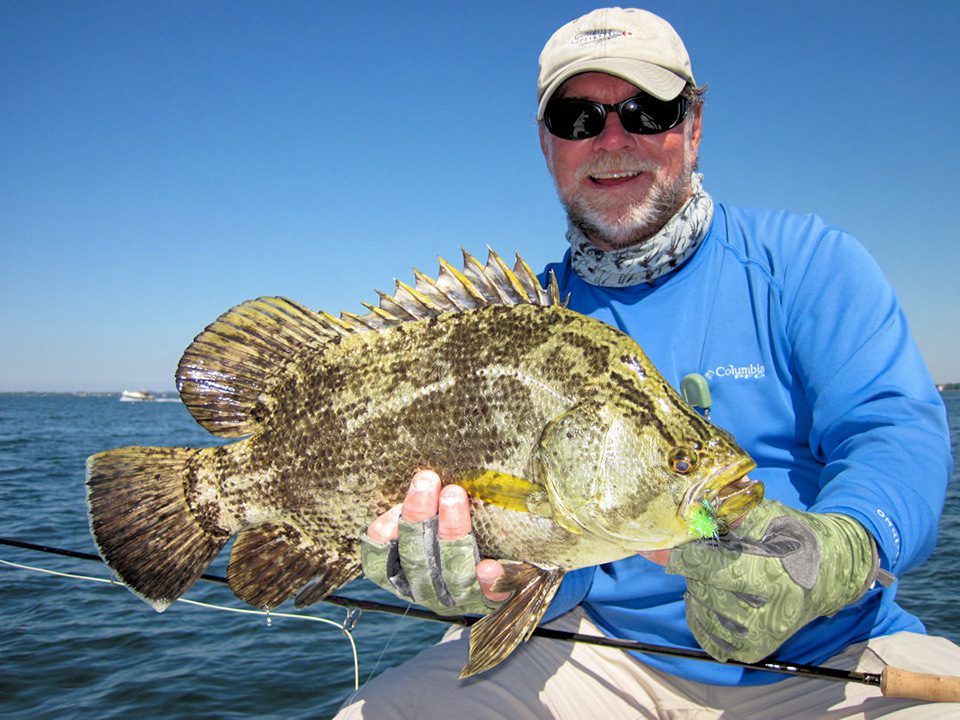 By Greg Watts
Now is a great time to hit the bays and the edge of the Gulf of Mexico for some great tripletail and cobia action.
We start out mid-morning with the sun at our back for greater visibility. The key for us is to run crab float markers and channel markers and buoys. Usually Cobia will prowl the larger markers and very seldom will you find one sitting on crab floats. On the other hand, the tripletails could be around either. So being ready and loaded at every marker is key.
Our tripletail rod is a 7- to 7 ½-foot medium to medium-heavy spinning rod with a size 3000 or 4000 spinning reel spooled with 10- to 15-pound Spiderwire Stealth. We add a 15- to 20-pound Trilene fluorocarbon leader about four feet long. For the bait, we rig a 1/8 or 1/4-ounce jighead (heavier when the tide is moving harder) in either silver or plain lead tipped with a 3-inch Gulp! Shrimp. I feel the molting color gets more bites. This is my confidence bait, but you should always experiment to find what is working for you.
Drive up to these markers and keep an eye out for that "trip" to be lying just under the surface on the down-tide side of the marker. He won't be hard to spot. Make a cast up-current and 5 to 10 feet beyond the fish. Then just swim the bait toward the fish. Kill it a few feet from him, and he should drop to follow and destroy your shrimp. You might have to look at many markers until you find the area in the bay where the fish are set up. Tripletail fillets are among the best in the bay.
Always be on the ready for the cobia, which will normally be on larger markers. They resemble a brown shark in the water. They are notorious for circling the structure, and these big guys will be very visible.
I will keep a rod rigged each time I'm on the water for each species, because you never know who will show. My cobia setup is a 7 ½-foot heavy casting rod with a Revo Inshore 50 casting reel spooled with 50-pound Spiderwire Stealth with a 3-foot long 60-pound leader. I love casting the Powerbait 8-inch or 12-inch pre-rigged black eel. Most of the time I thread on a ¼-ounce bullet weight before the eel just to be able to work the eel a bit quicker in the water column.
Cast at the cobia and work the eel back around the fish quickly and erraticly. This should get his attention. After that, you better have you seat belt fastened 'cause its gonna be a ride!
These fish are very delicious broiled or grilled with a little lemon pepper and parmesan cheese sprinkled on top.
It's a sight fishing game, and I guess that's why I really love it.