by: Dan Carns
Kayak fishing has been very popular for many years, and it is no longer a new sport. One of the trends in the past ten years or so is the move toward big, wide and outfitted kayaks specifically designed for fishing. These kayaks are a modern miracle but not everyone wants to make the investment in a kayak that may be too big, too expensive or too heavy for the casual angler. If you are already one of the those converts, it's too late for you as your kayak has a motor and needs to be registered. It also may have an electric Power Pole, Spot Lock positioning and an array of lights including electric live wells. I'm not knocking your insanely beautiful setup, but I see a whole group of anglers that are being held back from trying one of the greatest styles of fishing out there due to the investment and complexity of these new fishing crafts.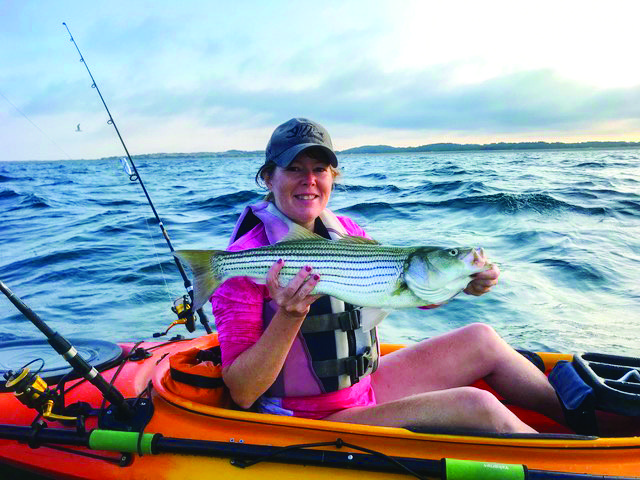 It is so simple to load a fishing pole and some tackle into whatever kayak you have and go fishing! Almost 20 years ago I began fishing from a Sit Inside (SI) Wilderness System Pongo 120 when there were no Sit On Top (SOT) Kayaks built for fishing. Eventually, I cut a couple of flush mount rod holders just behind the seat and used a sheetrock bucket with an air bubbler that I put in the rear hatch for a live well. I mention this as some of you may have this very kayak or something similar but are unsure about fishing from it but be assured that you can fish from most kayaks.
Just about any recreational kayak is suitable to fish from but a little preparation and a few basic supplies will ensure that you have an enjoyable and maybe a productive fishing trip. Try to avoid the old-style flip top tackle boxes as you may expose all the lures to excess water as kayaking is a true water sport. Instead purchase one of the many tackle bags that are available with individual tackle cases. Also make sure that you have some kind of anchor. I prefer a foldable grappling style in at least a 5lb. rating. You may not plan on using this to fish with, but it may become necessary in an emergency. Plan to add lanyards to your favorite pliers and fish grips as it's all too easy to drop these overboard. Believe it or not most fish will basically fit in a medium sized soft sided cooler with an ice pack, headfirst, tail out. Do not put fish on a stringer if there are sharks in your area or if the water is warm.
Keep it simple for the first few times out and you'll begin to figure out what is working and what you need to add to your setup. There are no hard and fast rules in this sport so get out there and try it for yourself.