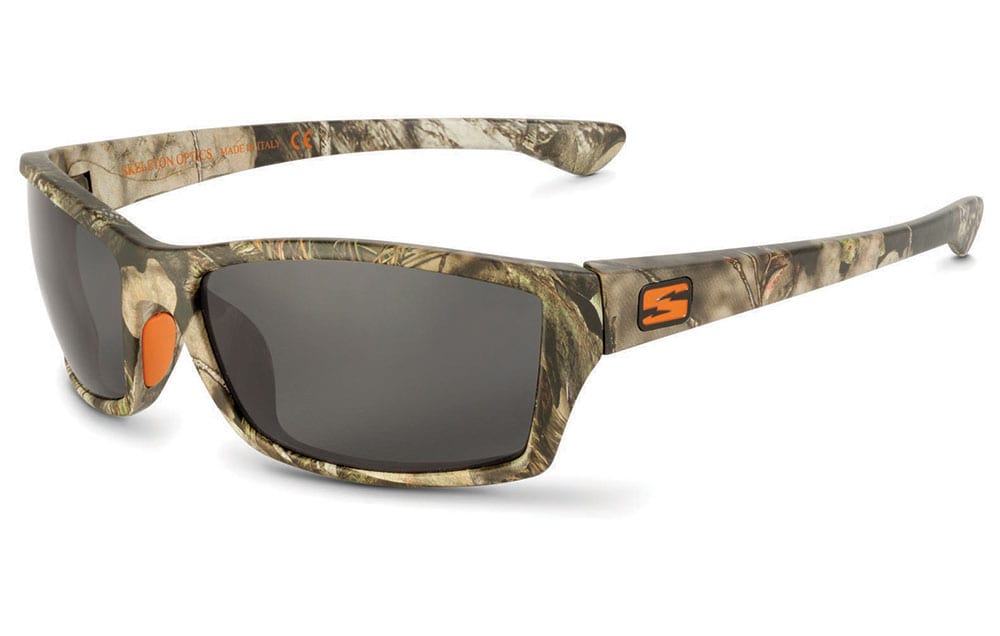 Skeleton Optics high performance eyewear delivers superb craftsmanship, trend-forward innovation and advanced technology for Outdoor enthusiasts everywhere. From the Rocky Mountains to the Atlantic Ocean, Skeleton Optics sunglasses are designed to empower ordinary people to do extraordinary things, inspiring them to live the "No Boundaries" lifestyle. The Skeleton Optics Mossy Oak Break-Up Country Scout sunglasses are a product of that thought process.
Working with experts at Mossy Oak and Zeiss, Skeleton Optics is pleased to provide hunters and sportsmen with sunglasses featuring the most true-to-nature elements ever produced on camo. Mossy Oak Break-Up Country combines digitally enhanced, life-sized natural elements with perfect color tones to help you blend in and shadowing elements that break up your outline like no other pattern available. A blaze orange nosepiece has been fitted for anti-slip and moisture wicking, and to complete the look, the Skeleton logo has been hand-painted in blaze orange. No two frames look exactly alike! So, no matter where you hunt, becoming a part of your surroundings won't be a problem.
Every pair of Scouts include polarized polycarbonate lenses by Zeiss, designed using an advanced Tri-pel coating to promote clear vision, amazing visibility and clarity, while reducing discomfort caused by glare during outdoor activities.
Designed for those who don't go where the path leads, the Mossy Oak Break-Up Country® Scout sunglasses are intended for those who instead forge their own trail.