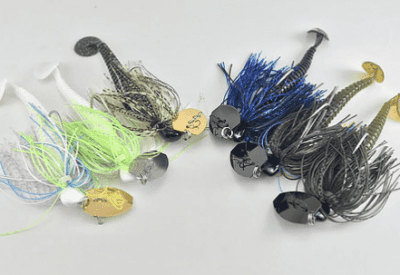 "NO BULL. JUST BAIT": So goes the company motto of St. Simons Island, Georgia based Sloan Brothers Bait Company. After fishing with their 3.5' and 5" line of soft plastic paddletail swimbaits, I would suggest they got it right on both counts. Currently the company produces a solid lineup of high quality, hand-poured soft plastics (paddletails in 3.5 and 5 inch lengths, 6 inch stickworms, and lizards), along with a couple styles of lead head jigs.
Currently, Sloan Brothers Bait Co. only sells baits via their website, but I would hope, and expect the local tackle shops to carry their products before too long. What stands out about Sloan Brothers Bait Company is their willingness to test, produce, and deliver "small-batch" editions of their successful lures. By taking direct input from their local captains and anglers, they can (and do) produce baits tailored to prevailing conditions. I regularly contact them to suggest something "custom" based on what I see on the water that might be more effective. As tournament fishermen, they know the value of local intel and "time on the water" feedback. What is refreshing is that they ACT on it…after a successful trip this past winter I thought a more subtle version of one of their baits would be even better. They responded immediately, and after a few discussions, some tweaking of the color mix, and testing, I was sent a few packs of a color that no one else has… again, "NO Bull, JUST Bait"… I've even had the chance to name the color on this occasion…How cool is that?!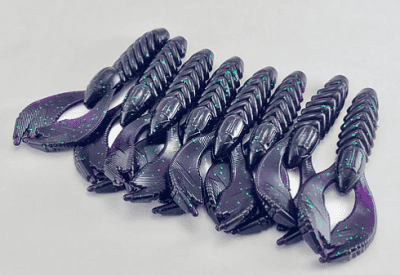 If you had to choose just ONE artificial lure to fish with for the rest of your life the venerable lead head jig tipped with a soft plastic swim bait would be hard to beat. These soft plastic imitations are often better than the real thing, a whole lot more convenient, and they will catch anything that swims. Take a walk down the aisles of your favorite tackle store and you'll be greeted by an overwhelming variety of shapes, colors, and sizes of this ubiquitous "go-to" lure of anglers around the world.
There are plenty of options out there, from companies big and small, but I'll throw a Sloan Brothers Bait Co. offering first, last and all day long; sometimes nothing else finds its way out of my tackle bag! Take a look at their website and social media outlets, then grab yourself a few bags. You wont regret it…but the fish sure will!
FYI: Although "my" color combo has already been successful for trout and redfish in the salt, it should also be killer for freshwater spotted bass in Lake Lanier, and I look forward to testing that this spring. Pro tip: Keep an eye out for "Purple Haze", "Purple Passion" and "Freedom Fry"…if you can, GRAB 'EM!
Until next time my friends: May you have tight lines, fair seas, and salty smiles. – Capt. Jon Fine
---
COMPANY BIO
Year Founded: 2016

Headquarters

: St. Simons Island, Georgia

Motto:

"No Bull. Just Bait"
About Us:
Ogden Sloan, Former Firefighter and EMT, took up bass fishing as a therapeutic way to handle the traumatic stress that many first responders experience. After injuries in the line of duty cut his career short, Ogden's fishing therapy grew more intensive. Now it's his passion. Ogden competes regionally in Bassmaster Opens and FLW Costa Series events.
Wright Sloan is a six (6) year veteran of the United States Air Force. He is an avid outdoorsman and entrepreneur. Wright considers Ogden his #1 fishing partner (in crime). He calls himself an "old school" angler – he'll always opt for classic baits, colors, and a smaller tackle box. He believes that skill always wins over equipment, though it doesn't hurt to have
quality kit, too.
From the Website:
"Sloan Brothers Bait Company is an online custom bait store owned by military and first responder veterans, offering first-rate handmade products to anglers from the comfort of their own homes. We're a business made up of pragmatic, no BS sportsmen with the drive to simplify and enrich your fishing experience."
We focus on simplicity, quality, and community. We believe that classic lures, born of experience and biology, are best. Hatch matching patterns and time-tested colors are the benchmark. Everything else is for catching anglers, not fish. We believe that all lures should be made from the highest quality materials on the market. No exceptions. And we believe that smaller, regional bait makers can better serve the needs of anglers on their home waters. We hope to build an active and vocal community of anglers that value sound angling fundamentals and quality lures over box store consumer culture.
Contact:
www.sloanbaits.com
Sloan Brothers Bait Co. on FB
@sloanbaits on Instagram and Twitter