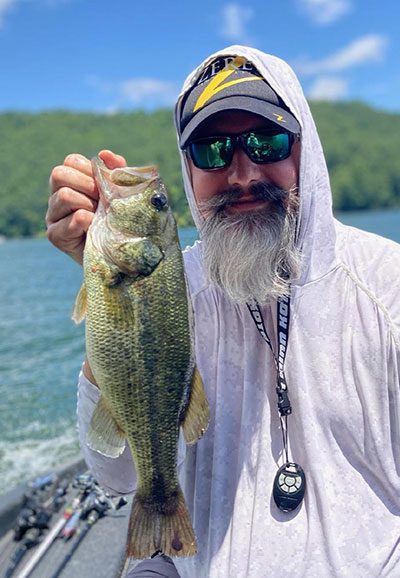 By Scott Norton
This time of year things slow down and the bite is tricky. With the water temperatures at their peak you will notice that bass in these conditions will get very finicky about what they eat. The reason they are hard to find is because they start to chase shad again. You have been used to finding them in their ambush spots but that is changing as you start to see this transition into fall starting to emerge. The name for this time of year is the dog days of summer. When you hear this you need to change gears and switch your normal game.
Let's talk about your plan to escape this condition. I always talk about playing the elevation game. When moving up in elevation the average water temperatures get lower and lower. You can still get into mid to high 70's in early August but that doesn't last with higher nighttime temperatures climb. The hot temperatures do not last in higher elevation because it is the last water to warm up, but it will be the first water to cool off close to winter.
Now for the baits, you want to get away from the conventional size baits and instead go bigger or smaller. There is a huge selection of baits you can use this time of year, just think subtle action. A few to know about will be spy baits, jerk baits, spinner baits, under spins, drop shots, swim baits, hover rigs, glide baits, and burrito baits. There are lots more not in this list, but it is a starting point so that you can build on it.
When you start seeing blow ups in the deeper water the bass have already switched patterns. They will suspend over deep water to push these balls of shad in places easy for them to feed. You will observe them pushing these shad to the surface and then the blow ups you typically see with this pattern. If you have forward facing sonars this will make things much easier but for those who do not, just fan cast the blow up areas and where you see shad swimming on the surface.
Scott Norton is a Western North Carolina native. Born in Asheville, N.C., he is a long-time hunter, angler and weekend warrior.