Okeechobee County has been selected as one of thirty-six communities throughout the United States to host an interactive and unique exhibit that speaks about our relationship to water. This wonderful opportunity began with a local visit from a representative of the Florida Humanities Council who said he was scouting for a Smithsonian Museum on Main Street exhibit that was all about water. Considering Lake Okeechobee is the center piece of a vast watershed running from Orlando to Florida Bay and connected to both coasts, it is only fitting that this great lake and the community of Okeechobee was selected.
Okeechobee County Tourist Development Council (TDC) applied to host the event and was awarded the exhibit along with a State Grant from the Florida Humanities Council. The request was to encourage the community to come together in a cooperative effort to not only celebrate our local waterways but to educate the community on the importance of water in our lives. Okeechobee County TDC has joined in partnership with Okeechobee Main Street and the local Heartland Library Cooperative to develop a program that will make this exhibit one to remember. A committee was formed to plan the exhibit and promote the event. This committee consists of Sharie Turgeon, Tourism Coordinator for Okeechobee County; Magi Cable, President of Okeechobee Historical Society; Brittany Carner, Executive Director; Okeechobee Main Street; Kresta King, Library Administrator; Angie Griffin, Vice President Okeechobee Main Street; Bridgette Waldau, Arts and Culture Director Okeechobee Main Street; and Gary Ritter, Assistant Director of Government and Community Affairs for the Farm Bureau.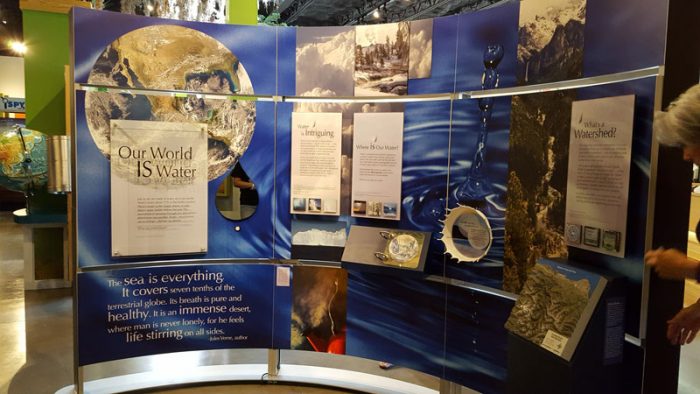 In addition to the main exhibit, Okeechobee Main Street Arts and Culture Director Bridgette Waldau was able to connect with the well-known and respected water conservationist Guy Harvey. Through the Guy Harvey team and the Main Street Arts and Culture Director, the Okeechobee exhibit will also feature a series of Guy Harvey freshwater prints varying in size and subject.
The local library, who is a part of the Heartland Library Cooperative, has been hosting a smaller exhibit of model steamships used to tell the story of waterways throughout Florida. This exhibit will be included in the showing as well as a special opening night only (December 17th) aquatic adventure with a large aquarium that will host a variety of fish on loan from the Florida Wildlife Commission.
As this exhibit will be gracing the halls of our Historic County Courthouse located at 304 N 2nd St., Okeechobee, FL, 34972 during the holidays, all decorations will be coordinating with the water theme in blues and silvers.
The exhibit will be free and open to the public December 17 – January 28, Monday through Friday. Saturday December 17 will be a special opening reception hosted by Okeechobee Main Street from 5-8 pm with a local speaker, light refreshments and wine. A ribbon cutting will officially introduce this engaging exhibit.
For more information please contact Sharie Turgeon, Tourism Coordinator at 863-763-3959 or tourism@co.okeechobee.fl.us. Large educational groups are especially welcome though please contact Sharie for arrangements. This will be an event your family won't want to miss!