Snatching Smallies on the Penobscot
Catching Striped BASS at Block Island
By Go Fish Dan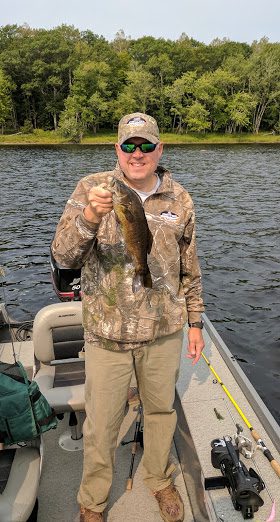 .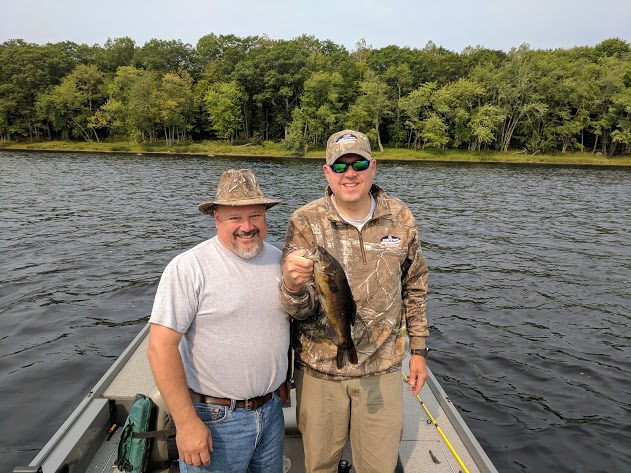 Looking for a great fishing getaway? Well, if you're a smallmouth bass maniac like me and you enjoy in- credible scenery, you should plan a trip to the Penobscot Riverin Maine.
When I made the trek in early September, I had already fished a good portion of the 109-mile long Penobscot, and I'd never been disappointed. But what brought me back this time was an invitation from Jeff and Mary Arrants, owners of the Penobscot River Cabins in Howland, Maine. Jeff and Mary always get a booth each year at the New England Fishing & Outdoor Expo, and I wanted to return the favor by visiting their beautiful cabins and river setting.
The Penobscot River is the longest river in Maine that flows en- tirely within the state. Treasured for its natu- ral beauty, challenging rapids and extraordinary fish populations,
the Penobscot is an angler's paradise.
On this particular ad- venture, my first day up north just happened to be the same day that Hurricane Harvey blew through Maine. Although the torrential rains shut us down on day one, day two was a prolific one, as we were able to reel in a hundred smallies. A lot of people have commented online and in social media that the Pe- nobscot is lacking in big monster smallies. While I would tend to agree with this assessment, I have reeled in three-and four-pound smallies, and even one that flirted with the five-pound mark. But, yes, on average you're going to find smallies in the range of one to three pounds.
So what's the best way to fish for smallies on the Penobscot? It's well known that they love a fly presentation, including poppers, streamers, buggers, clousers, topwaters,
but if you're not comfortable with a fly rod and prefer spin fish- ing, smallmouth love tubes, no matter what body of water you're on. I have a full arsenal of rocky ledge tackle spinnerbaits, and the smaller profile loaded for bass-crazy quarter ounce gauge spinner- baits. These two New England companies make Spinnerbaits that are proven to be killer on the river. An- other bait that is super productive is the blue fox vibrax spinners in Gold, Copper or Silver depending on the day.
One important note: If you're heading to the Penobscot, be aware that there are rocks and boulders by the tens of thousands. You'll want to have an aluminum boat, a drift boat or a canoe or kayak setup—unless you have the ability to go out and drop $30K on a jet boat! The good news is that Jeff and Mary have the perfect boats for rent, including aluminum boats, kayaks and canoes,
Of course, when you're staying at the Penobscot River Cab- ins, you can't go wrong no matter what you do out on the water. The cabins are beautifully rustic and simple, and the rental price reflects that. If you do not need a king-size bed, jacuzzi or spa you'll be just fine at a GREAT price.
The Penobscot River Cabins are an adventure awaiting your arrival. You'll discover beautiful scenery and a waterway so stocked with fish that you really can't miss. Plus, you just might have the chance to watch bald eagles glide down and scoop up fish 100 feet behind your boat!
So if you're looking for a great way to discover the amazing Penobscot River, grab your gear and your boat and get in touch with Jeff and Mary Arrants.
Until then, God Bless and Go Fish!