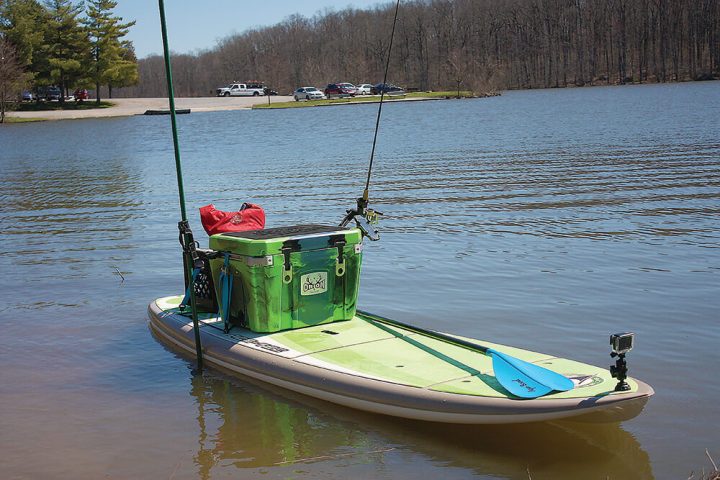 Fishing from a standup paddleboard is a blast. They are stealthy, agile and give you access to places otherwise inaccessible due to lack of water or no-motor regulations. Compared to fishing kayaks, SUPs are affordable and a great deal lighter, making transportation easier. Bare-boned they are good to go but if you add some accessories you have an incredible fishing machine.
Likely the first addition to your new SUP is a simple milk crate. For less than 10 bucks you can strap one of these on to keep your gear in check. Add a PVC rod holder, and you are well on your way. But there is a lot more you can do to design the ultimate fishing platform.
Most fishing SUPs are equipped with a number of leash plugs for connecting a variety of items. These range from rod holders to paddle clips. The two I find most useful are the camera mount and the Zooka Tube rod holder. There is nothing better than a picture of your trophy catch and the Ram camera mount works great, is inexpensive and secure. The Yak Attack Zooka Tube is a rod holder for both spinning and baitcasting rods. Equally useful, swinging it to the side allows it to double as a stake-out pole holder to keep you on the fish.
To take it to the next level, add a cooler. Coolers are an awesome and the right one can provide additional storage and enhance your comfort and safety. One of the best features of fishing on a SUP is the vantage point you gain by standing. That said it is nice to have a place to sit and rest or to lower your center of gravity. This makes your board more stable in rough conditions or while fighting a big fish. Almost any cooler can be strapped to your board, but to get the most out of it, you will need to consider a few things like lash points, lid latches, and the ability to accessorize.
The Orion 35 is an extremely versatile cooler. This roto-molded beauty is virtually indestructible and has unique features that make it perfect for a SUP. Multiple latch points and cam latches keep all your stuff on the board and in the cooler in a case of an inadvertent plunge. The lid comes with a traction pad that helps to keep gear from sliding into the oblivion and makes for a softer seat. Best of all, it has built-in Yak Attack rails on each side that allow you to attach any Ram-style accessory to the cooler. This gives you gear options like electronics holders, rod holders, and even a mini bar.
And here's a bonus, genius, paddle-holder hack. To make a basically free paddle holder, take a length of rope roughly 18 inches longer than your waist. Tie 6-inch loops on both ends. Wrap it around your waist, putting one loop through the other. The hanging loop holds your paddle handle near your waist, which makes it easy to stow the paddle quickly and quietly, and allows some one-handed control while fishing.
Souped-up and ready for a full day on the water, a well-equipped SUP is a versatile and fun fishing machine.
Will Robinson is a seasoned tournament angler and has been writing about fishing for nearly two decades. Check out Orion coolers at Orioncoolers.com.