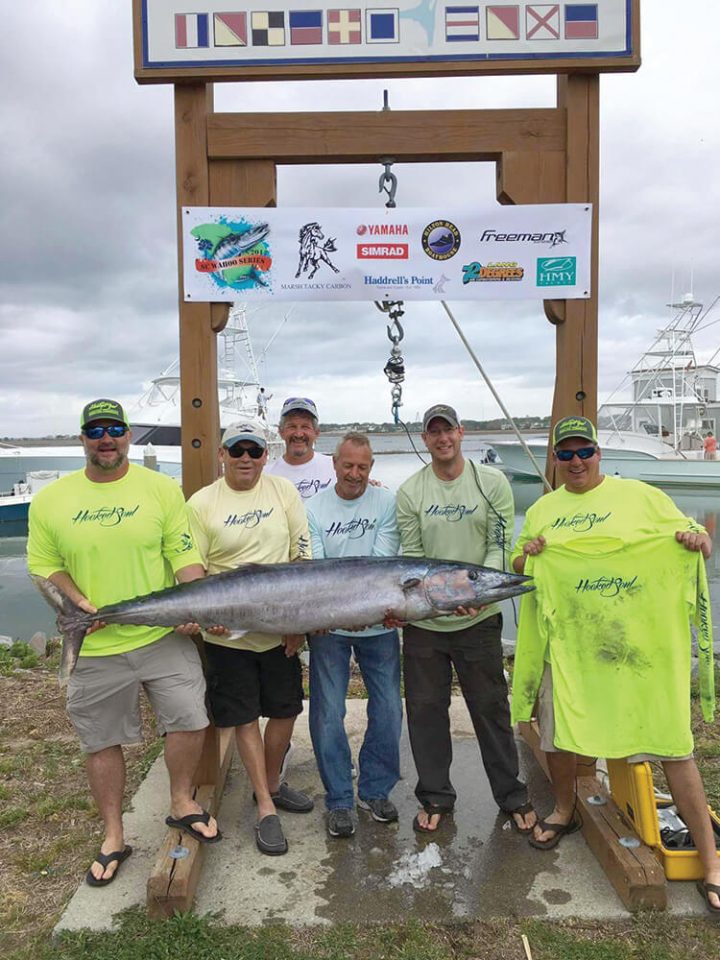 The 2017 South Carolina Wahoo Series Tournament kicked off with 114 boats competing to catch the biggest two of these sharp-toothed speedsters that frequent this part of the Atlantic in winter and spring. With fishing open from Feb. 3 through April 16 this year and wide boundaries from St. Simons Island, Ga. to Murrell's Inlet, S.C. it's a wide open tournament. One major stipulation, though, is that teams may only select two fishing days during that time period.
One of those is the Team Wasted Time, fishing aboard their 58' Buddy Davis home ported in Murrells Inlet. The boat is owned by Wally Lee, skippered by Capt. Dan Carey and sponsored by Hooked Soul. This is the first S.C. Wahoo Series that Team Wasted Time has fished, but the "Wahoo Whisperer" Capt. Dan Carey is no stranger to winning wahoo tournaments, having previously won the Hook A Hoo and Marlin Quay Carolina Slam tournaments.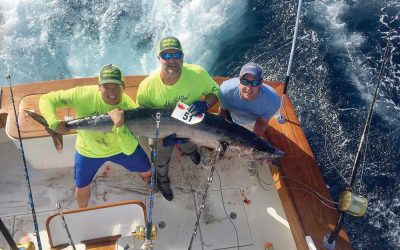 Conditions were a little sporty with 4-foot seas at 4-second intervals on March 29, when Team Wasted Time began high speed trolling passes at 14 knots in 170 feet of water. Dragging customized Fathom lures, they quickly had a double hook up of two 60-pound-class wahoos. The day continued with sporadic bites from medium-sized wahoo, and meanwhile, a 29.6-pound blackfin decided to eat a Tuna Clone being towed behind a bird, giving Team Wasted Time a solid first place in the Tuna TWT as of the writing of this article.
The goal for the day was to land a wahoo in the 80 to 90-pound range, which would give the team a shot at the top of the leaderboard. As the day began to wind down, that was beginning to look less and less likely. According to Capt. Dan, all the conditions were right. He liked the water temperature and color, the bait they were seeing and the activity at the surface, so they decided to keep with the game plan and stick it out.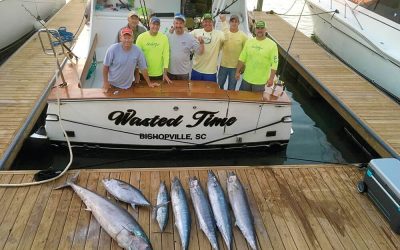 On what they agreed would be the last pass of the day, the captain saw something promising on top and turned the Wasted Time back for one last run. The strike came quickly, and 20 minutes later the fish door opened and the crew put what they thought at the time was a 90-pound-class wahoo on the deck. It was later on when they realized they had topped the triple-digit mark when the official scale tipped at 100.5 pounds.
At press time, Wasted Time sat atop the leaderboard for that stellar day of fishing for TWT Wahoo, High Roller Wahoo, and Tuna. That 100.5-pound fish looked mighty tough to beat in aggregate weight if Wasted Time can manage to boat even a decent second-day wahoo.