By David Perry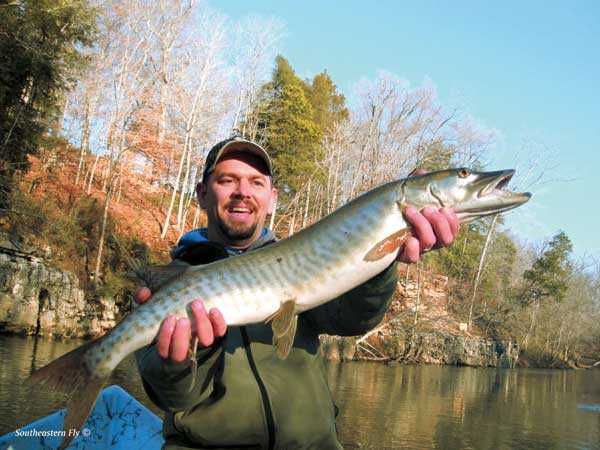 A couple of years ago, there was an undercurrent of musky fever, and then musky fever on the fly climbed to an all-time high. We read articles while tuning into the almost constant internet chatter. Everyone was talking about chasing musky for many days before even seeing one. We watched videos of anglers catching long, toothy fish, hoisting them over their heads in victory, showing shotgun poses along with new camera angles to help bring musky fever to its highest possible temperature. Musky was the fish of 1,000 or 10,000 casts—I really cannot remember.
Living in the South has its advantages, and I am not just talking about the best sweet tea. We have abundant warm water, along with the Appalachian streams and outstanding tailwaters. When I heard musky were living in Middle Tennessee waters, and within an hour of Nashville in the Cumberland River Watershed, it was time to see what the fuss was all about.
In preparation for this newest adventure, I asked friends what they knew, went to Cumberland Transit (bought a new 10 weight), and then picked the brains of the guys working there. I Googled this and Yahooed that. Before long, it was time to call a couple friends. What was the criterion for those friends? They must be able to row a drift boat, because I want to fish on my days off. They must have a strong back and be able to row for long periods, because I want to fish on my days off. Not to mention they need to cast big flies that resemble psychedelic chickens.
Calls went out to Brent and David days before the trip. We discussed flies and what to bring as the fever continued to climb. Even though the chances of catching one of these fish were slim, we still had to give it a shot. This wasn't to be the start of a new guiding adventure—I just wanted to catch one of these fish to say, "Yep, we caught one of those." The plan began to gain traction.
Finally, the day we had all been waiting for came. It was 5 a.m. The dogs probably wondered why I was up and depriving them of their usual 15 hours of sleep per night. The drifter was hooked to the truck and fly rods were hanging in the rack. It was time to head to the river.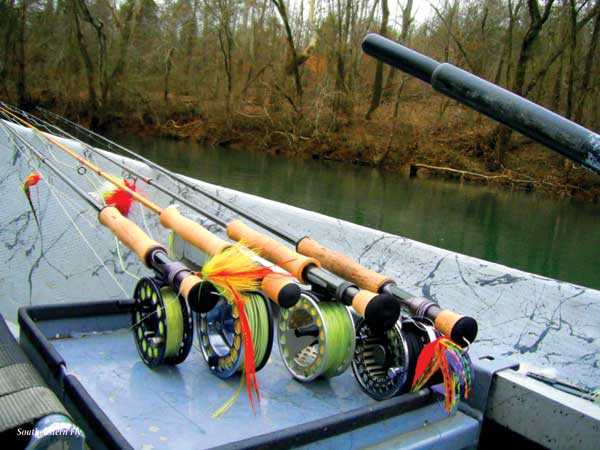 Before the sun was up, Brent and David were in the casting braces. There was the usual anticipation of a new adventure with the underlying feeling of a huge waste of time. Fistfuls of chicken feathers were flying and fingertips were numbing in the 20-degree weather. We decided the water level was as good as it could be and the temperature was certainly right for this mission.
I was in the rower's seat, admiring a particularly nice ledge, while thinking this would be some fantastic brown trout water if it were 30 degrees cooler in the summertime and if it had, you know, trout in it. We were a short 45 minutes into the float and I felt a jolt as someone set the hook. Then David, said, "He's got one on." After all the research, much build up, many hours of video and a fair amount of people convincing me the casts would be in the thousands before anyone would actually have a fish on, I asked the obvious question, "One what?" David quickly confirmed it was a musky. There was a short period of controlled chaos while Brent battled the fish. After several short runs, he got the head of the fish up and slid the musky into the net.
We had a solid round of high-fives along with fist pumps. We admired that fish and relived the fight, while the victory photos were taken. Trying to be as cool as we could, we knew we had seen something darn special. Brent is a man of few words and when he speaks, people tend to listen. We were just about to hoist the anchor when he calmly said, "That wasn't so hard."
There were a few more trips before David put his first musky in the boat. Before the guiding season started back on the tailwaters, we had our southern musky fever relief.
David Perry of Southeastern Fly, www.southeasternfly.com, offers guided drift boat fishing trips on the Caney Fork and Elk Rivers in Middle Tennessee. For more information, email David at david@southeasternfly.