By: Capt. Terry Fisher
I always welcome the month of February, as it basically is a month that 'anything goes' in regard to inshore and offshore fishing. It is the month that allows anglers to target migratory species such as, spanish mackerel, cobia, permit, snappers and groupers, both inshore and offshore. They should be in good numbers. February is the month before the 'winds of March' begin to intimidate professional and recreational anglers alike.
This year sheepshead will be the fish of choice as always, especially since the winter season (as we Floridians know it) didn't exist during the months of December or January, nor did the sheepshead. Rumored to be difficult to catch, they also provide some of the best 'action' on light tackle, not to mention the tasty morsels. They will be found throughout Pine Island Sound along seawalls, 'piles', mangroves and oyster beds. Fish for them where and when there is current flow. Like most all species, when the tides have sufficient current, either incoming or outgoing, to change water levels and move bait fishes they are more active and easier to catch. Like always, the larger Sheepshead should be feeding and spawning around the aforementioned areas during the cooler water temperatures of February.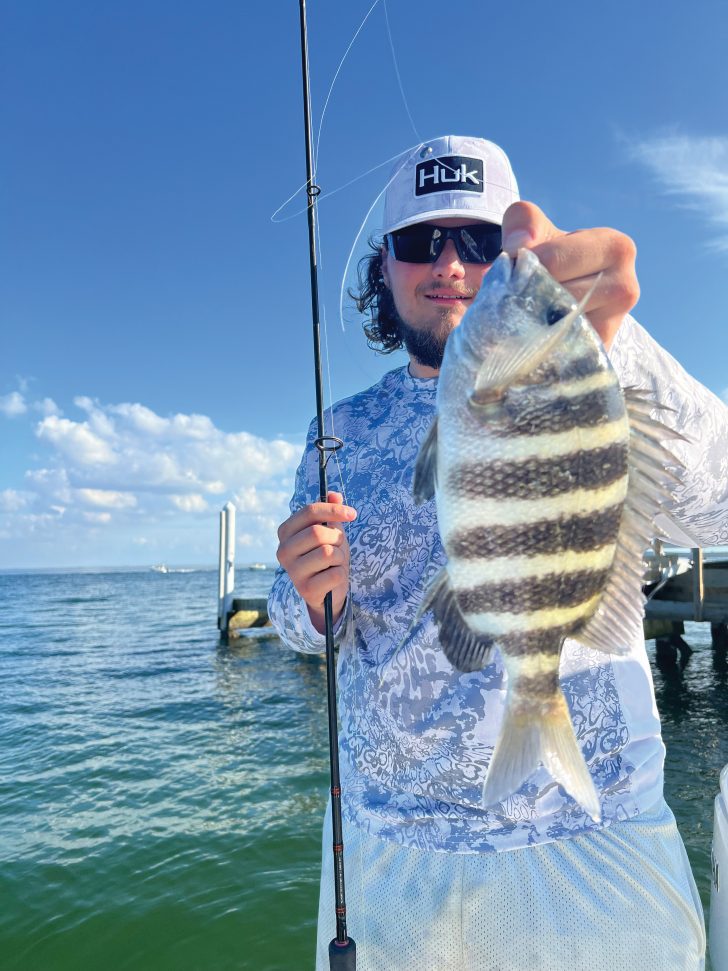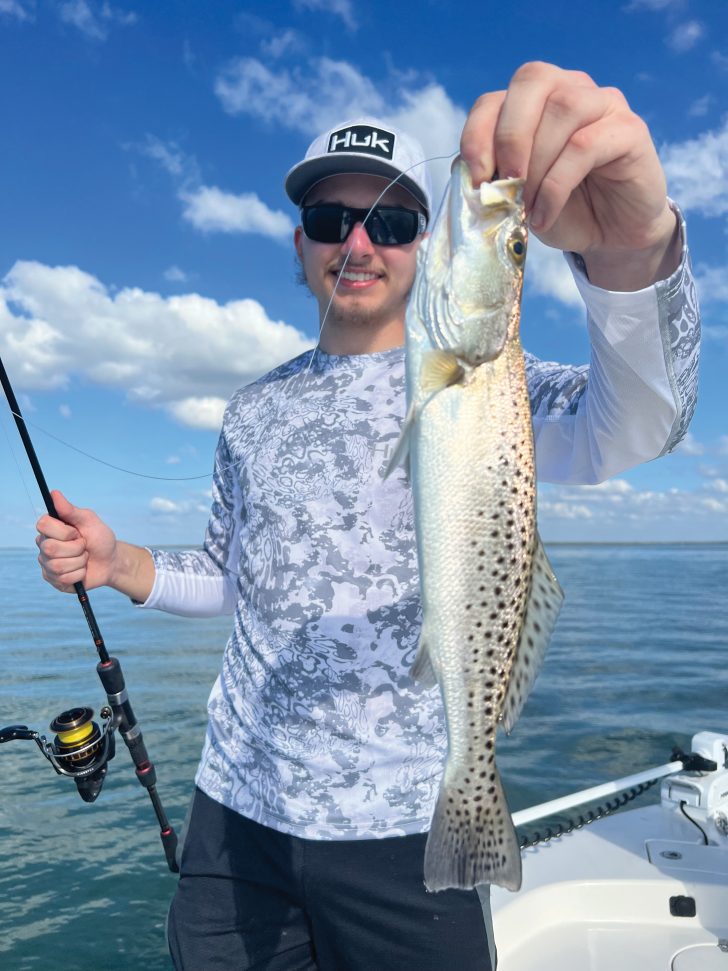 Sheepshead are not difficult to catch when the 'bite is on', as mentioned above. Just like any other species, they do not eat 'non-stop'. However, when they feed, they can be very aggressive. When they go into a feeding mode, they are very easy to catch. Anglers targeting these fish need only to realize that it is during the feeding phase, that they will basically 'hook' themselves, with just a little 'angler' patience, by not trying to set the hook too quickly. They have a tendency to 'school'. When the small Sheepshead are eating, the big ones won't. Conversely, when the larger sheepshead bite is on, the smaller ones get out of the way.
Recognizing a sheepshead bite from another species is the 'key' to understanding how and when to set the hook. Hard hits or redundant nibbling are small mangrove snappers or pinfish. When either of these fish are biting, odds are the sheepshead are not eating or are not at that location. Light 'tugs' or gentle 'pulls' are sheepshead.  They will pick up the bait and swim away to the left or right of the initial presentation. Any of these events triggers the time to remove some of the slack in the line and set the hook.
My bait of choice for sheepshead is small shrimps. Fiddler crabs are the choice bait for most 'old timers', but crabs can be hard to find. I chum the heads of the shrimp to incite more bites while using the tails to catch them. I use light tackle with 10-15lb. braid line with 30lb. leader. Small #1 or #2 bait hooks with a small pinch weight to get the presentation down to the seabed. Simple, but successful!
Spanish mackerel is another bonus during the month of February. They are headed south to Mexican waters. They will be found in areas where birds are diving, in the passes and flats throughout Pine Island Sound, Charlotte Harbor and off the outer islands in the Gulf of Mexico. Live and artificial presentations all work for these fast moving, aggressive, 'darting' fish. They are toothy critters and require heavy monofilament (40l-50lbs.) or light wire leaders to prevent bite offs. These fish like white baits (pilchards) or silver spoons that resemble them. When using spoons, be sure to use a swivel to prevent line twisting.
February is also the transition month for bigger seatrouts to inhabit the grass flats. Wherever they have been for the past few months are beyond me but seem to come out in 3 to 5 ft. of water with lots of 19" to 24" fish. Light tackle should be used to enjoy the catches of both small and bigger trout. Swim baits, top water and paddle tails all work. Use the top water presentations early morning when waters are free from turtle grass and other debris for some really exciting angling. Nothing beats catching a seatrout on a top water lure. Live Shrimp, suspended under a popping cork will provide the most consistent action of all.  Fish the milky-green colored waters in depths of 3-5ft. for best results. The greenish color indicates the seabed is covered with grasses for fish safe havens. By-catches will consist of pompano and ladyfish.
Offshore, red grouper, lane snapper and the other species (which were closed last September) have now been reopened in Federal Waters. Fishing for mangrove snappers, Yellowtail snappers and most all grouper species are open before the March winds begin to prevail. These species hold on wrecks, rubble and ledges anywhere from 30-100 ft. of water. Be safe and be sure the vessel is worthy and equipped with safety gear.