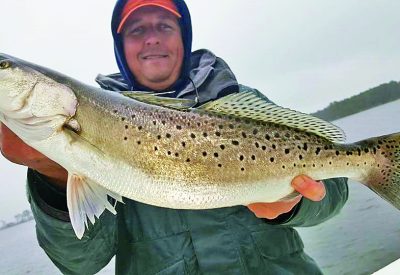 by Jim Baugh, Jimbaugh.net, Jim Baugh Outdoors TV
What a pleasure it was to recently head down to Aurora North Carolina and film some speckled trout fishing with Michael Collins from Tideline Boats. This was a shoot that almost did not happen. The show boat we film was booked for the next month for various reasons and we only had a two day window to film. However, those two days were shrouded by a big front that was soon to be blanketing our fishing area for at least two or three days.
What to do? I have been in this situation many times over the past 30 years and it is always a toss-up. If we did not go, we would totally miss our opportunity for a shot at a trout show. So, we packed up and headed south to catch up with Michael Collins of Tideline Boats who fancies himself a bit of a trout fisherman, and with good reason. Mike has that certain way of working a mirror lure to where he will catch ten fish while I am still trying to get the skunk out of my spot on the boat.
We were fishing in pretty solid rain for the most part and the areas we covered were Campbell's creek, the Inland Waterway, and some of the Pamlico Sound. The baits used were primarily mirror lures fished quite slow. I also tried a jig, however all I would get were short strikes with no hook ups. The mirror lures fished patiently with a simple jerk action after three or four cranks seemed to be the ticket. I guess I did not pay enough for my ticket because I just could not get the rhythm right. Fortunately my fishing partner for the day had it down pat and we had fish in the boat all day and into the evening.
Water depth was usually four to eight feet and we were casting towards the shoreline. Most of the fish were caught near shore. As the night fell with a blanket of rain and low visibility, I finally hooked into a wonderful Keeper! It was worth all the casts I had made throughout the day. Mike had already limited out and we released a mess of fish unharmed.
Look for a first peak on this special show on our You Tube Channel before it broadcasts at www.youtube.com/c/JimBaughOutdoors