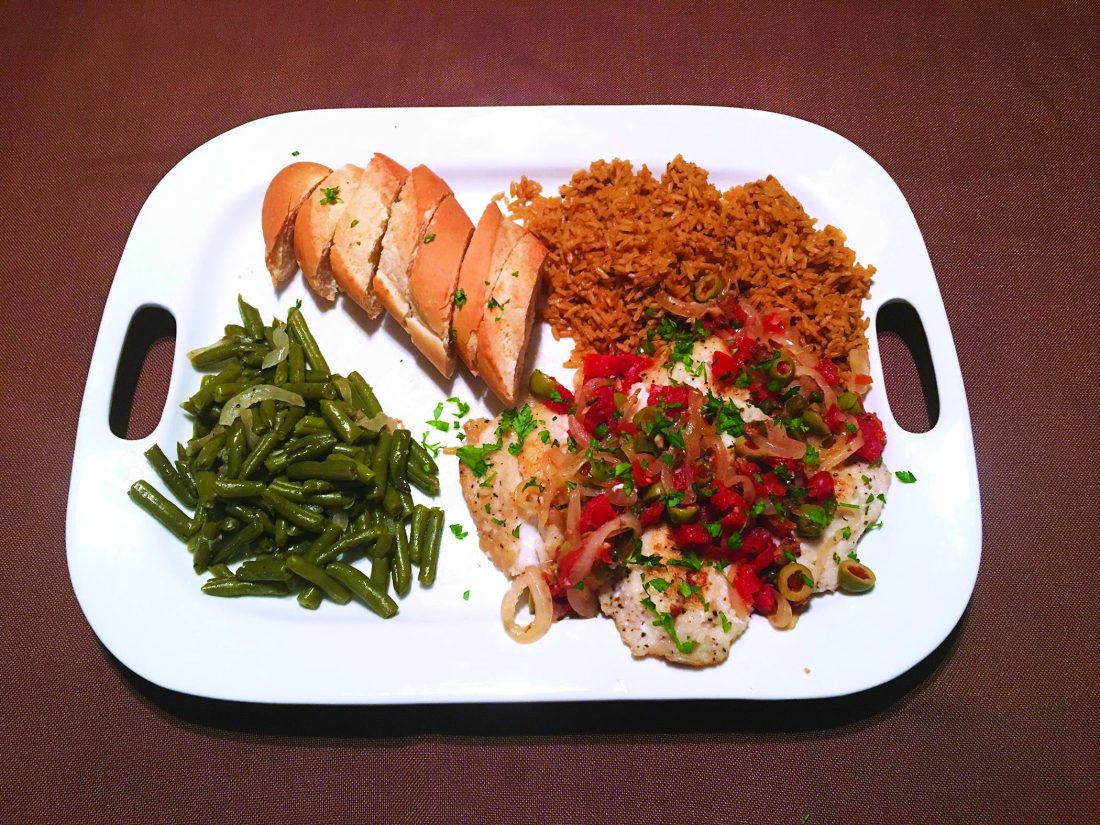 By Janet Kunde –
This came to us using Cod and was sent down by a friend in Colorado. He said they really enjoyed it, but, they get everything shipped in.  We thought a local fish would be just as good and it was.
2 tablespoons flour
¼ teaspoon coarse salt
¼ teaspoon pepper
4 (4-6 ounce) filets ¾ inch thick (can use fresh or frozen)
1 ½ tablespoon extra-virgin olive oil, divided
1 onion thinly sliced
1 teaspoon minced garlic
1 (14 ½ ounce) can diced tomatoes with green chilies and juice, undrained
½ cup halved pimiento-stuffed olives
1 tablespoon capers, rinsed
½ teaspoon dried oregano
Chopped fresh parsley for garnish
In a flat pan, mix flour, salt and pepper; add fish and flour both sides.  In a large nonstick skillet, heat 1 tablespoon olive oil on medium-high.  Add filets and cook 5 to 7 minutes or until golden and just cooked through, turning once. Remove to a platter; cover to keep warm.  Heat remaining oil in skillet. Add onion and cook on medium-high for 4 minutes or until just golden. Add garlic; cook 1 minute or until fragrant.  Stir in tomatoes with juice, olives, capers and oregano; bring to boil. Reduce heat and simmer 3 minutes. Spoon sauce over fish and serve.  Garnish with parsley. Pinot Grigio went very well with this, enjoy.