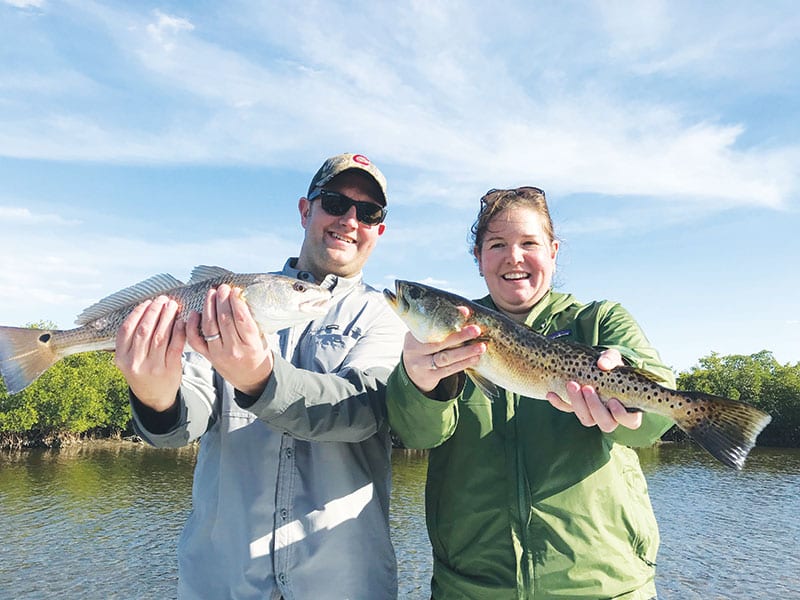 by Capt. Dave Stephens
It's transition time in SWFL. Hopefully were done with this cold weather. For the last month or so we have been focusing on fishing deep water. Over the last few days, with the warming water, some of our warm water fish have been getting hungry. These guys can only stay dormant for so long until Mother Nature kicks in.
Over the last few days the seatrout have been making their move from the deeper water. Pot holes on the flats have been holding good numbers of fish. Shrimp rigged on a jig head have still been the bait of choice. Today on my charter possibly the biggest clue of the upcoming spring fishery took place. We were fishing some deep water for trout. However, that fishery didn't want to play, but we did manage to hook a tarpon. The excitement on the boat was amazing! Got me ready for what's about to happen to our fishery.
With the rising water temps the cobia should start making their push north. These guys are a pelagic fish. If you're not familiar with what a pelagic fish is, I'm going to explain. Most people think it is a fish that migrates. Well yes, you're partially correct. A Pelagic fish is a species that is not a bottom fish or a surface fish. They move from north to south or south to north following the warmer or cooler water. Often mistaken for a shark, these excellent fighting fish can be found in various locations. This time of year, the outside of bars are your best bet. On sunny days, these guys will cruise close to the surface. Jumbo shrimp flat-lined or fished under a float will get their attention.
Another migratory fish that we can expect to start showing, is the Spanish Mackerel. In my opinion these guys are the most over looked fish in the harbor. During their spring migration south, they show up in big schools. Deep holes are the best place to locate these guys. Another give away for a school a feeding mackerel are birds. These guys will push a school of bait to the surface as they feed. Often overlooked as a food fish, I myself would have to disagree. The biggest issue is they do have some oil in their flesh, much like salmon. If prepared fresh these guys are one of my favorite fish to eat.
As spring starts to move into Charlotte Harbor expect a lot of great things to happen. The days will get longer and our fishery will begin to wake from the cooler months of our Florida Winter!
If you would like to experience some of Southwest Florida's finest fishing, give us a call, 941-916-5769 or send an email to [email protected] All of our charters are private and customized to fit you and your party's needs. Capt. Dave Stephens, www.backbayxtremes.com