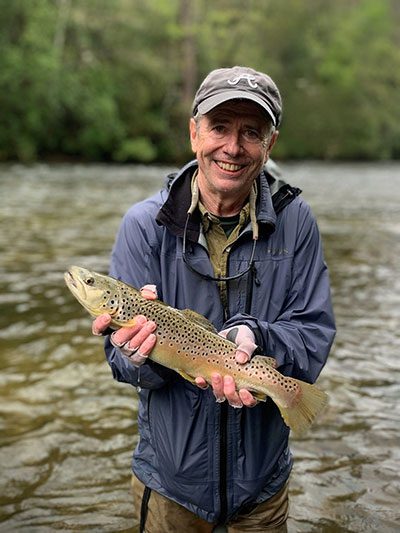 By Karl Ekberg
The month of June looks to be much the same as May as far as weather goes. This has been one of the best Spring seasons we have seen in quite some time. The major ninety degree heat has held off this Spring and the trout fishing has been spectacular. The cooler spring weather and sporadic rainstorms has kept the trout waters cool and the water levels at good flows. Evening fishing is a delight with evening hatches the highlight of nature. Many fish are exploding out of the river caching the many bugs trying to catch flight.
June brings summer vacation, wet wading, and taking the kids fishing, like at the free Kid's Fishing Rodeo, June 3rd, at Burrell's Ford Campground on the Chattooga River, which is put on by the U.S. Forest Service. This event is all about the kids fishing, with registration at 8:00am and the fishing starting at 9:00am. There'll be many prizes for the kids and a lot of fish to be caught. Taking the kids to fishing derbies and events like this is a great way to introduce them to fishing, in areas where many fish have been stocked to keep their interests and excitement high.
First light and last light of the days of summer are best for the trout. Get out at daybreak, with dry flies, nymphs, and emergers, while in the evening the dry fly is the way to go. Dry-dropper rigs for the day is very popular, with high floating foam dry flies, which will suspend nymphs through any type of water situation.
Having plenty of dry fly floatant for the day or evening, whether powder or gel, is a must. Pre-treating the dry flies prior to going to the river and having the dry powder to dry the fly out after catching a fish is a great plan. Find the riffle areas leading into long glides to find the best dry fly fishing.
Warmer months also means it's Bartram's bass time! Top-water fly fishing for these gems of the red-eye bass family is an absolute treat. The water temperatures above fifty-five degrees, and these fish are out and about, and readily available to eat some top water presentations. Water levels on the lower Chattooga can be tricky, but a good rule of thumb is, anything below 1.25 feet on the Burrell's Ford gauge, then the river is absolutely safe to wade below the West Fork confluence. Finding slower moving water for the bass is best, along with back eddies with a lot of overhanging trees and brush.
The most tropical fish of the Chattooga, the red breast sun fish, may also be caught in these areas as well. Their fire-orange breast with blue coral colored masking from their mouth to their gill plates makes this fish a treat to catch as well. These fish are finicky, but will take small top water poppers, and some small streamers.
Keeping hydrated and sun protection is key to having a great day out on the rivers. And let's all remember to "Leave No Trace", as we can always bring out a little more than we walked in with, and the entire forest will be a better place for ages to come.
Karl and Karen Ekberg are co-owners of Chattooga River Fly Shop, located at 6832-A Highlands Hwy, Mountain Rest, SC 29664. Give them a call at (864) 638-2806 and visit their website at www.chattoogariverflyshop.com.