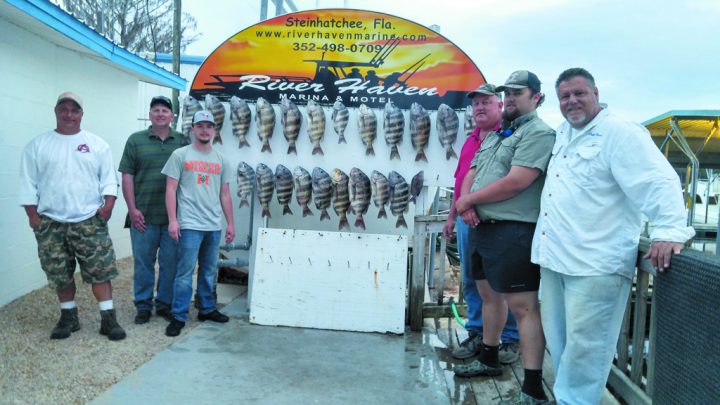 CAM APRIL 2017
Capt. Brian Smith
April is Nice
I get asked often what is my favorite month to fish.  April is in the top ten—anytime is my favorite time to fish.  April is when the Gulf rolls out the welcome mat for our southern pelagic species.  The welcome mat is actually massive pods of baitfish that invites Spanish mackerel, kingfish, cobia and such to our coast.  The influx of food also excites our local reef fish to actively feed.  It all has to do with warming water temperature.
Flats fishing blooms in April.  Trout and redfish will be hitting most anything tossed their way.  This is thanks to the return of pinfish to the flats.  The best bait is confidence.
There is nothing more exciting—at least in the world of fishing—than seeing a school of baitfish being fed upon.  Baitfish scattering from the surface like reverse rain with fish vaulting out after them.  Spanish mackerel tearing through a wad gets me so jacked up I can't wait to toss a small silver spoon into the mix.  The turbo blast of line peeling off the spool is addictive.  Some say, "I don't like eating Spanish."  "Shut up and let yourself have some fun.  You haven't missed a meal."  Spanish mackerel can only be enjoyed fresh.  Frozen Spanish mackerel is called cat food.
On the tails of the Spanish come the kingfish.  They eat the baitfish and the Spanish.  If you've never had the thrill of having over a hundred yards of line zipped from a reel in a blink, you need the experience.  Two excellent tactics are to cast a live bait—blue runners are best or troll Spanish mackerel imitating plugs around the schools of baitfish in late April.  It may that some time but it is time well spent.  Please don't forget the gaff.
My favorite fish—cobia will be making their first appearances in April.  Trout fishermen will get the first unexpected tangle with them.  "I hung a cobia this morning but it broke off", says a trout fisherman flipping a jig on ten-pound test.  He didn't give himself a chance.  Here's a chance… hook a pinfish under a cork and float it behind the boat on a large spinning combo.  Please don't forget a large landing net.