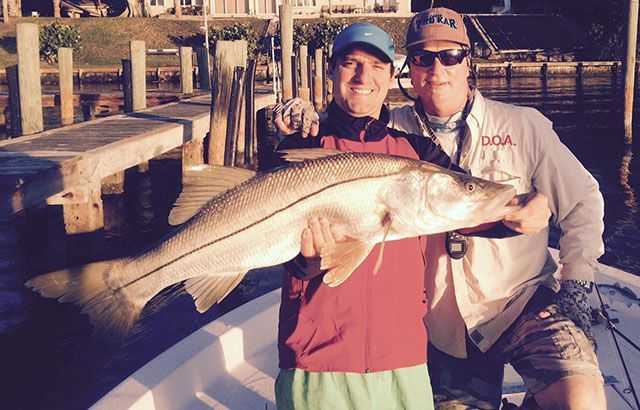 [dropcap]T[/dropcap]his month snook will be moving to the inlets and near shore reefs in big numbers getting ready for the summer spawn. We have seen big snook running the mangrove and channel edges near the St. Lucie Inlet with the smaller males right behind them. Most of the snook are over 32 inches so nailing a keeper is tough. If, you want aggressive top water hits, this is the time to throw your Zara Spook, Skitterwalk or D.O.A. Bait Busters at first light near mangrove points, under docks, potholes in the grassflats and other snooky haunts. Switch over to live bait during the day to keep the bait in the zone longer. The big girls will be hungry so prepare yourself with long leaders and sharp hooks. Try the night bite for snook at the local bridges with First Light jigs. Once you get thumped along the shadow lines three things happen: (1) you set the hook and score, (2) miss the bite and (3) you are now addicted to working jigs along the shadow lines and can't wait for the next thump.
Gator trout will be the targeted species on the grass flats this month and are willing to knock your top water plug out of the water. The presence of more bait and warmer water on the flats will turn the big Trout on. Go with topwater plugs early and switch to D.O.A. C.A.L. jigs after the sun comes up. Live bait or artificial lures will both work, it depends on your preference.
The west side of Indian River along the dock lines has been holding redfish. Popping corks and live shrimp seem to be working on the reds along with natural color jigs on quarter-ounce jig heads. The Silver King likes the Roosevelt Bridge area and if big mullet are coming through on the tide change, it's a good idea to hook a mullet through the lips and drop it back.
Keep the waterways clean!