It's 2 p.m. on a bright, sunny day and I'm pitching pilchards in the shadow of a small bridge not 50 yards from a marina. As my bait turns and swims momentarily into the sunlight, a sudden swirl connects me to a solid slot-sized snook. My line has been in the water for less than a minute.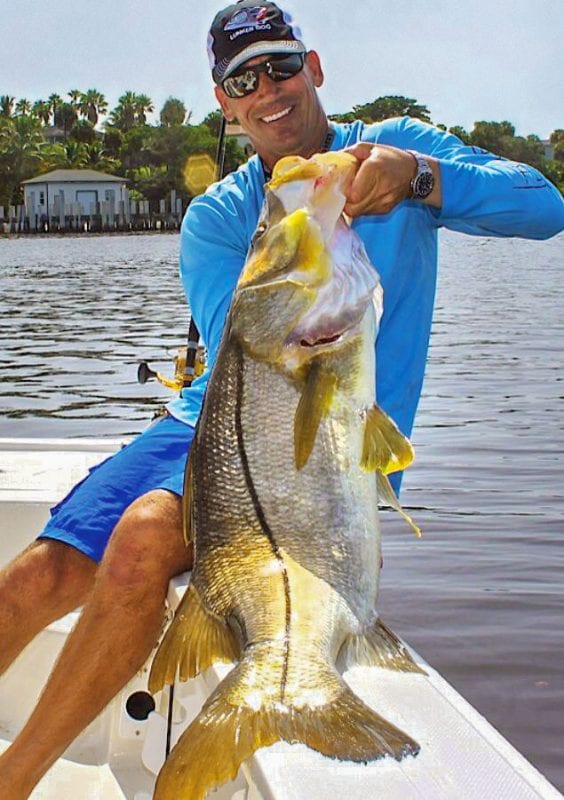 "It can happen fast," chuckled Capt. George Gozdz, who in 2019 is scheduled to host a new fishing show on The Sportsman Channel called Unfathomed. "There's quality snook under almost any significant structure around here."
"Around here" would be the Indian River Lagoon (IRL) and St. Lucie River system, an estuarine wonderland on Florida's southeast coast that stretches 155 miles and dishes up everything from monster snook, gator trout and delicious pompano to king-sized tarpon, jacks and a variety of grouper. The city of Stuart sits dead-center in this expansive maze of fishing heaven, and makes the perfect launch point for learning these waters.
"The diversity in this area is something special," explained Gozdz, "Two systems converge here, the St. Lucie River and Indian River, and St. Lucie Inlet provides access for ocean pelagics like sailfish. Inshore, snook is the most popular target on a year-round basis. From December through March, you'll find the best action up inside the St. Lucie River because the water is warmest there. The stretch from Rt. A1A (aka: 10 Cent Bridge) west into the north or south fork of the St. Lucie River is the prime winter snook area. I throw Yo-Zuri Crystal Minnows and Hydro Poppers in low light conditions and pitch pilchards once the sun gets up in the sky."
Generally speaking, tidal stage doesn't matter much for these snook, as long as the water is moving. Look for heavy structure near 10-foot depths with good flow and you'll eventually connect. "Keep in mind this isn't finesse fishing," advised Gozdz. "There's no way to haul a big snook—they can top 40 inches in length—out of heavy structure with light lines. I use 80-lb. test Yo-Zuri Super Braid with an 80- to 100-lb. test Top Knot fluorocarbon leader."
Gozdz depends on Navionics charts to navigate the extensive IRL system. "They're super-accurate and constantly updated," he said. He also noted that a quality pair of polarized sunglasses makes a big difference in your score, especially if you happen across some shallow feeders.
As with much of South Florida these days, there are some significant water quality issues in this region due to overflow discharges from Lake Okeechobee into the St. Lucie River, but that's more of a rainy season problem, so if you're heading south between November and March, fishing should be fine.
If you are looking to stay overnight in Stuart, Pirate's Cove Resort and Marina (www.piratescoveresort.com; 772-287-2500) is a great choice with affordable rooms, wet slips and free launching around the corner at the Sandsprit Park. To fish with Gozdz, email: [email protected]