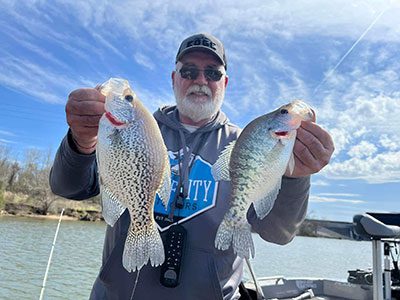 By Perry Hensley
Well! We have come through the ups and downs of spring crappie fishing and are headed into the deep water and high temperatures of the summer, so now what?
If you are like me and can't handle the heat of the day in the summertime, then it is time to buy some lights and hit the water for some nighttime slab hunting.
Around East Tennessee it is very common to pass by the lakes and rivers and see the bridges and banks all lit up with lanterns and lights. One of the techniques I have used in the past is fishing deep bridge columns. you can do this by either anchoring your boat or also by tying off to the columns themselves. (Note: Please be aware of the boat traffic as this can be dangerous at times if an uncourteous boater/fisherman comes flying by so be very cautious!)
Now that you are set up drop either your submersible or floating lights over the boat almost instantly you see the schools of baitfish swarming under or around light source. I would prefer to also be over some kind of structure such as rocks or brush where the chances of finding crappie would be more in my favor.
All one needs for this is some good limber rods and small reels with 4-8 lb. line a split shot weight or two and a #4-1/0 size hook (depending on your preference) and a few dozen medium size minnows. It is important to be using a rod with a real soft tip as crappie do not like any resistance and if you are using a stiffer rod the crappie is likely to spit out the bait or just rip it from your hook stealing your bait.
I would start by lowering my bait half the total water depth in which you are fishing or drop it to just a foot or two above structure or brush that you intend to fish. This will cause less problems getting hung up in the structure you are fishing over in the event you hook a good slab crappie.
One does not have to use just minnows to be effective in fact you can have a ton of luck using an artificial bait such as a stinger type profile bait or even a crappie magnet style bait or even night crawlers. Just as a precaution, make sure you are prepared to hook a variety of different fish using this method of crappie fishing. All in all if you can handle the bugs this is a great way to fill your live well with some summertime slabs.
In closing and as always, get out there and make those memories with your friends and loved ones. May God our Father bless each of you and Tightlines!
Perry Hensley