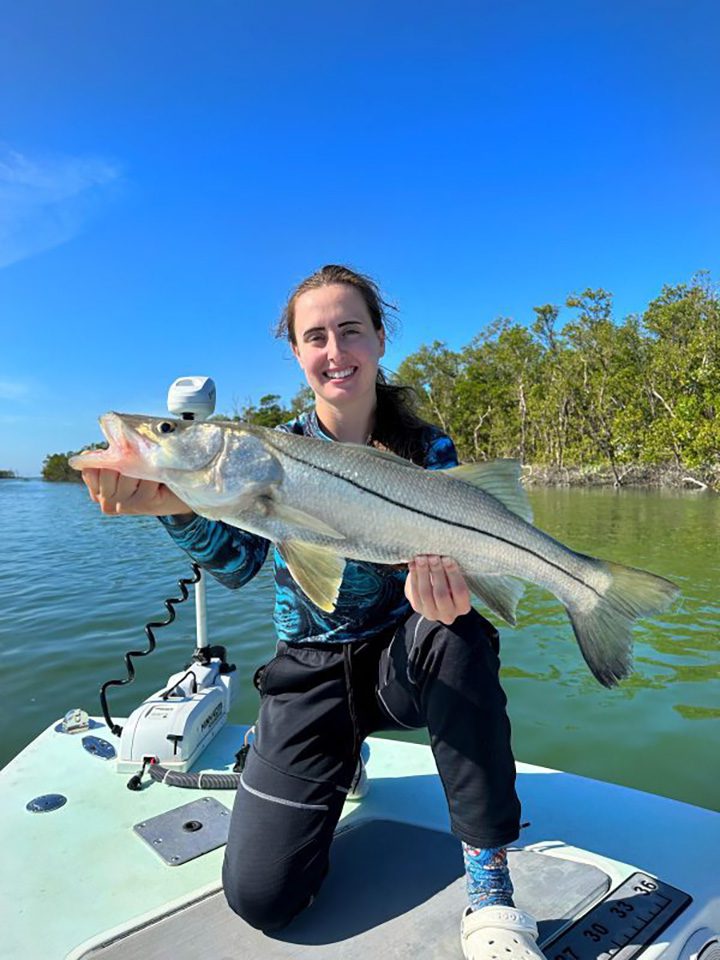 By Capt. Michael Okruhlik
I love blow-ups from a fish attacking a topwater lure. The sound and sight combined with the sudden impact are exhilarating to say the least. Of all of the fish I have caught on top in both fresh and saltwater, none compare to an aggressive snook attack.
While exhibiting at ICAST in Florida, I had to make time for some snook fishing. I started the morning early, before the sun breached the horizon throwing a bone-and-white topwater with a loud rattle. This area had a hard sand bottom with a steep transition into 6 feet of water.
As the sun inched above the horizon, bait started to become more active and a little skittish. Without a strike, I decided to temporarily switch lures. Although I love the topwater blow up, my desire to land a snook took priority. Since it was apparent fish were in the area and feeding subsurface, I decided to go with a soft-plastic swimbait and a ¼-ounce jighead.
I was looking for larger fish, so I tied on a 5-inch model. This particular swimbait, a Knockin Tail, was equipped with a rattle built into the tail. I wanted to give the fish every chance to find my lure utilizing all of their senses. With the vibration from the paddle and the constant rattling of the pulsating tail, I started catching fish within a few casts. Some hit on a steady retrieve along the bottom while others inhaled it as I bounced it along the sand. I caught and released several trout from 17 to 20 inches, and then a school of 100-pound tarpon moved in and the bite ended. I'm not sure if I was lucky or unlucky that the tarpon didn't eat, since I was using light inshore tackle.
I moved to a new area and switched back to the topwater plug. This area was covered in shell clumps out to waist deep and then transitioned to hard sand to about 6 feet deep. I was casting into the 6-foot depths and vigorously working the lure back into the shallows where the bait was.
When my lure was just outside the bait, I had an enormous eruption, striking and heading to my right. I immediately knew it was a large snook by the distinctive sound they make when striking a topwater plug. I could see the top of her out of the water for a few seconds before my line went limp. I continued to work my lure rapidly and then immediately cast back to the same area. Within a few seconds, there was another massive explosion and she was on, tail walking across the surface.
After a few more rounds of jumps, I landed my snook. It weighed just over 9 pounds. Upon release, she didn't hesitate to return to the depths. I hope to see her again next summer!
Capt. Michael Okruhlik is the inventor of Knockin Tail & Controlled Descent Lures. www.MyCoastOutdoors.com