By Jimbo Mathley
As we move into the summer in North Georgia, an angler has many options to catch spots here on "Big Sid." Depending on the water temperatures, there are several techniques you can utilize to stay on top of the fish, sometimes literally, and remain successful on Lanier during the hot months. In today's installment, we will review the locations, techniques, and lures to utilize to ensure you keep on hooking spots!
Location
By July, the majority of the spotted bass are normally in their traditional summer patterns. While some fish will be relating to key features at the mouths of the major creeks, you will begin to find more and bigger spots active in the main lake. The fish tend to relate to either schools of bait or the brush almost exclusively during July, particularly on sunny days. Look for brush and other fish-attracting features around the steeper side of long-running points, rocky shoals, steep rocky ledges as well as underwater humps throughout the lake. Locating these areas and the man-made cover that is often found on them which will often concentrate the fish will be important to your success. I recommend LanierMAPPED.com to get started. The site provides an opportunity to purchase narrated video and GPS Coordinates for over 800 different fish-attracting features in the lake that were filmed when the lake was 20 feet down during the historic draught of 2007-2008.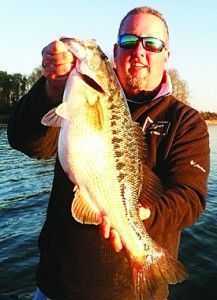 Lures and Presentation
Now that we have explored the location that the spots can often be found in July, let's examine some of the techniques and lures that can be used to catch these fish.
• Topwater/Swimbaits – These lures remain a viable approach until the surface temperatures hit the upper 80s. At this point, the majority of the bait goes deeper as do the fish. Until then, look for this bite to remain strong, as it has through May and June.
• Fish Head Spin – When the topwater/swimbait bite is tough, pick up your Fish Head Spin and go to work. Fish the bait over and around brush for your best success. Vary your retrieve speed and depth until you hit on the right combination for that day.
• Worm and Jig – When you see fish in brush on your Lowrance, try the worm and jig. I like the Davis offerings, especially their original Shaky Heads. Explore different worm sizes, shapes, and colors when you are fishing. Something different presented appropriately can make a big difference on certain days.
• Drop-Shot – This is a great tool when the fishing gets tough. I opt for this offering when fish are suspended in or around brush, or when they are suspended on points or humps. This presentation can be made vertically or it can be cast toward the feature. I prefer the Wackem Drop Shot worm options on the artificial side, and I do several trips each summer with spot tail minnows. This is a blast and an easy option for kids or inexperienced anglers. Spot-tailing turns fishing into catching!
Jimbo Matghley is a full-time, year-round Spotted bass guide on Lake Lanier.