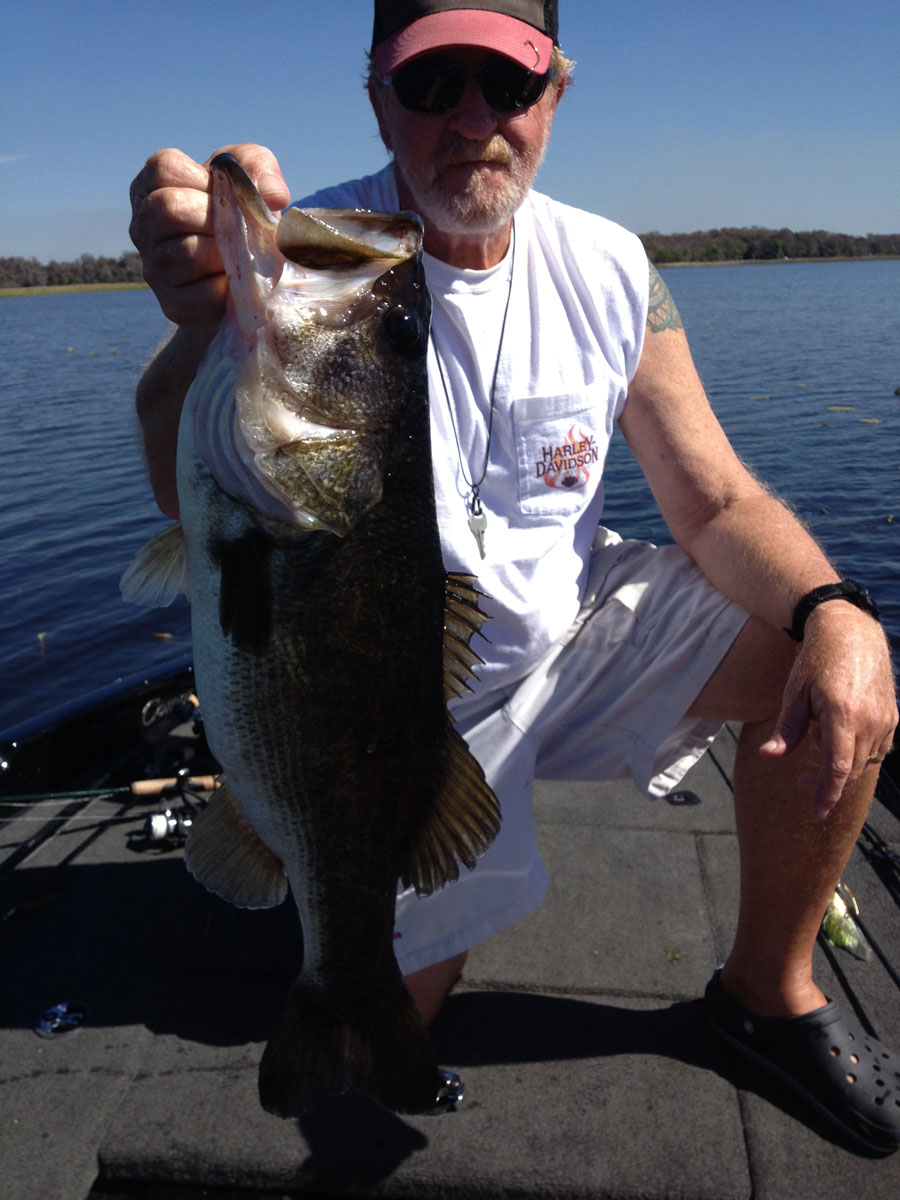 The spawn is over and the weather is typical for this time of the year, hot and muggy.
With the start of the hurricane season, or as many fishermen refer to it "the rainy season," our waters warm quickly and patterns change often, resulting in tough fishing conditions.
But the bass are still there, they just seem to disappear.
Over the years, fishing Lake Okeechobee, Lake Istokpoga and many lakes in Highlands County, like many fishermen, I've developed my own strategy for catching bass during the hot summer months.
My strategy or pattern is simple. Early morning, and I mean early, like it's still dark out and the sun will begin showing itself in the next 15 minutes. It's all about getting to my spot before sun-up and fishing with top water baits. This low-light period won't last long, maybe 30-45 minutes, but it's often the best hour of the day.
Zara Spooks, Rebel R's, Chug Bugs, the list of top water hard baits can go on and on, but during this early morning bite, frogs, toads and flukes can also be extremely effective.
Beyond the fact that this is the best time of the day to be fishing, it's also the coolest temperatures you'll see all day. Winds are generally calm and the summertime thunderstorms are typically hours away.
And who doesn't enjoy catching bass on top water lures? There's no question seeing a bass strike on the surface is what most fishermen enjoy most, yet few understand the importance and significance of being on the water super early. For many fishermen, getting up at 4am or 5am is a challenge, and as a result, they often find themselves on the water an hour or two after first light.
That's fine if you enjoy a boat ride, or the opportunity to catch a straggler, but quite often, after that first hour that the sun is up, the bass have moved into dense cover or offshore and require a different pattern to catch them.
So going back to my strategy, once the sun is up and the bite has slowed down or stopped, I typically move to a flippin' or pitchin' pattern. Jigs with crawfish patterns or plastic worms work extremely well and often the bass will be on the outside edge early morning, making them much easier to catch than later in the day when they tend to move back into the vegetation. Bulrushes, pencil reeds and lily pads are the most predominant and best choices for flippin' plastics.
As the day progresses, I believe the bass move deeper into the vegetation and at that point I begin pitchin' baits much further, often as far as 30 feet. Long casts deep into the vegetation will often result in hang-ups and snags, but it can also be extremely effective in catching some real wallhangers. But anyone who's ever hooked up with a big bass deep in the vegetation knows what a challenge it can be to get the lunker out. Nine times out of ten, you're going to have to go in to get her.
That in itself can be a real challenge. Keeping a tight line and forging your way in with an electric motor on high will often create a mind-boggling array of blind mosquitoes, gnats and flies of which you may not be prepared to handle. More than one angler has found himself in a position to climb over the side of the boat in the hopes of retrieving his trophy.
But keep in mind when fishing deep in the vegetation. Bass often have nowhere to go and as a result, will often wrap around whatever vegetation is available. Once they do, it doesn't matter how much tension you keep on the line, the bass will often lay on its side while the hook just falls out. It can be a heartbreaking moment to see the big bass just swim off. The real key is to get to the bass as quickly as you can.
Finally, as the day progresses, the third pattern of the day is offshore. This is where most fishermen, myself included, are generally at a loss. When you're fishing shallow water or shorelines you have a target. Flippin' and pitchin' you have a different target, but offshore, you're often dependent on a good depth finder. Rock piles, shell beds, humps and underwater islands are all good holding points for bass. Brush piles are also extremely productive utilizing dropshot baits and vertical jigs. And don't forget spinnerbaits, slow-rolled through deep grass beds or crank baits that dive deeper than 12 feet.
By noon, throughout much of the summer months, the rain clouds begin to gather and quite often, the day will be cut short by the daily thunderstorms. But keep in mind two things about the rainy afternoons. When the clouds roll in, just before the rain starts, the bass will often "turn on" and topwater baits often work extremely well, even in open, deep-water areas. Schooling bass will pound baitfish in open water and will generally strike anything thrown in their path. On many of the lakes in Highlands County these schoolies are small, 10" to 14" fish, but they can be caught easily and with the right gear, give up a good fight.
In Lake Okeechobee and Lake Istokpoga, schools of large bass, often 5 pounds and up will roam the offshore areas in search of or following schools of baitfish. And when they attack, the fishing can be fast and furious.
So regardless of the pattern or strategy you employ, get out this summer and enjoy a day on the water. Catching bass is just a bonus.