First Half: Venice, LA
On the road to the Super Bowl, only the good and lucky aren't weeded out. As it turned out, Mother Nature was looking to weed out the anglers headed to Venice for the "Super Gumbeauxl" a fishing rodeo and cook-off between well-known chefs from the Gulf Coast who'd come to battle it out in the Mississippi Delta as well as in the Gumbeaux Cook-Off back in New Orleans on Super Bowl Saturday.
Chef David Cunningham of restaurant V (Seagrove Beach, Florida)
Chef Rob Stinson of Salute Italian Restaurant (Gulfport, Mississippi)
Chef Jacques Leonardi of Jacques-imos (New Orleans)
The first travelers were met in Venice by high water. With the high tide and steady 25 mph winds, a foot and a half of water was rolling across sections of the road to Venice Marina. Waves from the open swamp were breaching the metal-siding along the road and sending spray 10 feet in the air.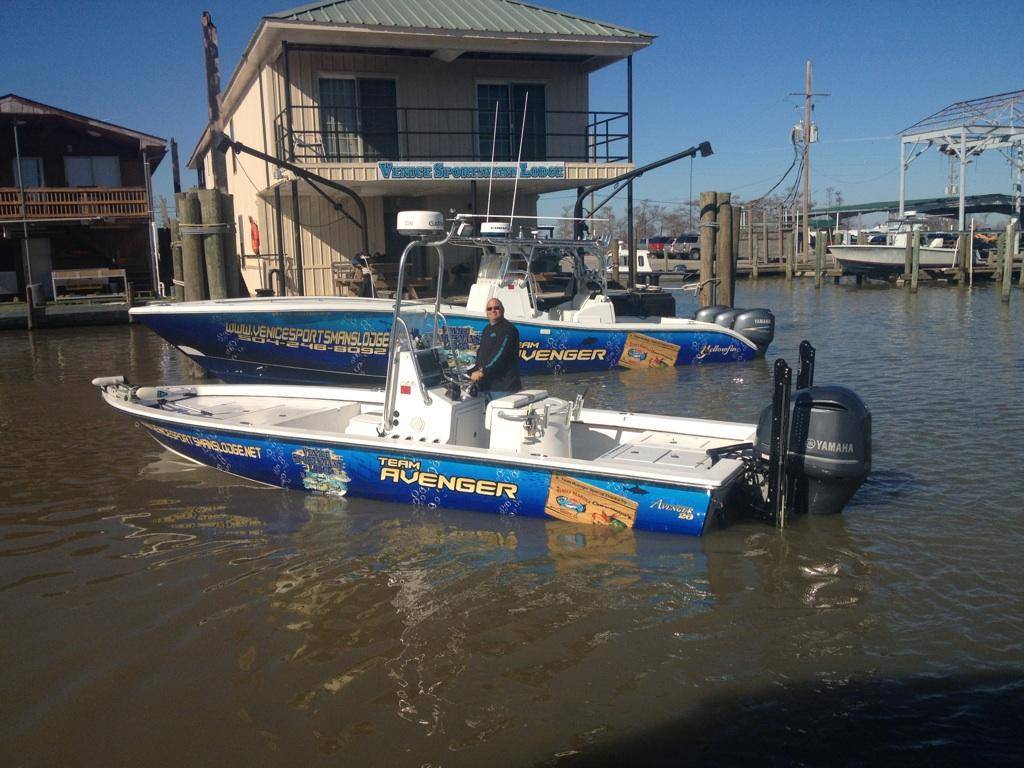 Delay of game. We staged ourselves on high ground at the Lighthouse Lodge & Villas, one of our "locker rooms" for the weekend. Rebuilt after Katrina finer and sturdier than ever, the Lighthouse Lodge would house one of the competing chefs and his team.
As a referee of the Super Gumbeauxl, I had my first situation. It was late, we were all late, there was a ton of gear to be unpacked, including the "studio" of Marty Wilson, one of the Gulf Coast's premier marine artists, as well as sound equipment for a half-time show and there were crawfish to be boiled outside in gale force winds. At this point, climbing up into Lighthouse Lodge's 65ft beacon was starting to seem sensible
The first incoming distress call was from none other than nationally-renowned musician and master of the Delta blues John Mooney. He'd shown up with his manager and his beautiful wife Julie only to be greeted by our Cajun tsunami. (Speaking of Tsunami we also needed to transport all of the tackle and gear that Bimini Bay Outfitters overnighted to our friend Cleo Blue from Faux Pas Prints.) So John was watching the water rise around their RAV-4. He'd beaten us to the high-water mark and now he's asking me what to do.
For me this was worse news than it would be for the average person. I'd been hearing him and his band Bluesiana whenever I could over the last 20 years. He was my favorite musician of all times, equivalent to another person's Mick Jagger or Johnny Cash…. (fill in the blank). Anyway, John has the spirit of improvisation and is a songwriter so maybe we'd be hearing a "Highwater Blues" at the Lodge if we ever got there.
Chances for that improved when Capt. Brett Ryan, one of the quarter backs in the Super Gumbeauxl, always nimble in the pocket, decided we should meet his boat at Cypress Cove Marina and he'd ferry us and all our stuff to the Venice Sportsmans Lodge at Venice Marina. He plowed off in his Chevy with its 35 inch tires and 6 inch lift.
Some time went by and with the wind changing direction, water levels on the road dropped enough for some of us to pass. In caravan, we made our way, lurching along through the hidden washouts on the road.
We showed up at the Venice Sportsmans Lodge with all our chaos and Dan Skermetta our gracious host was there to greet us with a big smile. Dan was the pro head-honcho here and had seen it all before. He's used to all sorts of groups showing up from around the world and in varying conditions.
Game On! John Mooney gets out one of his 5 guitars and sends his rhythm and blues across the camp as crawfish are unloaded and gear unpacked.
Capt. Brett, already on his way to MVP status, found shelter about 50 yards from the Lodge and was commanding the crawfish pot. He kept the flame alive and had the mudbugs boiling.
It wasn't too long before the steaming piles of crawfish and cayenne were breaking the chill and the jumpin' Delta blues driving the night. The south Louisiana spirit had already taken over and old friendships were already in the making.
The next day was supposed to be a blow-out but that didn't seem to be on anybody's mind. In a region where "hurricane parties" have been thrown for generations and people sport bumper stickers that say "Proud to swim home," the whole event was just another excuse for a good time anyway.
It was winter and Venice was completely dead but this night the Venice Sportsman's Lodge was jamming. The Lodge was the perfect place for our get-together. It was upscale but sturdy enough to handle the party that was erupting inside.
Somewhere in the midst of it all, the wind started to ease up and the smart fishermen started to peel off for their beds. I left a few heroes in the kitchen to crash back in my room at the Lighthouse Lodge, thankful it was working out. But it usually does with the devoted angler. It has to do with the attitude.
We all awoke to a cold reality. The morning was brisk, and that was a nice way to put it. 5 boats of anglers screamed out of Venice Marina headed down the Mississippi fanning out to the inshore spots most likely holding the biggest bull reds.
The front had moved through and the humidity level at an unusual low, the sun was stunningly bright. Our entire crew was outfitted by Bimini Bay and we were thankful for the Salt Life Optics they had sent down. Carl Zeiss known for its state of the art technology equipped the cool frames with their German engineered lens. This feature amazingly reduced the sun's UV rays with the premium grade polarizing film that is permanently bonded into the lenses. They provided true color recognition, pristine clarity and total UV-protection.
Everyone was raving about the quality but Jimmy Fisackerly of Boat Stuf put it best:
"I've been tournament fishing since 1984 and have tried every brand of sunglasses. I had an opportunity to try the Salt Life brand of Sunglasses with the Zeiss lenses and am convinced that these are the best sunglasses that I have ever had.  I use them every day for driving, as well as fishing inshore and offshore. The clarity and visibility in our murky waters of Louisiana is incredible."
The biggest red of the day was a healthy 35" fish. A couple boats limited out on reds. A couple produced some respectable numbers and the fly fishermen got skunked. (They were relying on sight-fishing and the winds had turned up all the silt.) Our boat had enough action that we were never bored, with enough strikes to keep us poised and ready the whole day.
Back at camp, everybody had mellowed out a bit and the mood was more about hanging out in the Venice Sportsmans Lodge's 5 star kitchen and watching the chefs do their thing, a scrimmage I guess you could call it. No need for pads at this point. Marty Wilson, had his "mobile studio" up and was demonstrating his mastery of Gyotaku, a old Japanese form of painting fish.
Taking the helm tonight was Chef David Cunningham. He is the chef for the restaurant V in Seagrove beach. A native of Louisiana, he'd learned much of his skills at Commander's Palace in New Orleans before migrating to Florida. Tonight he covered our whole red fish in pounds of salt. What he pulled out of his hat was the most juicy, succulent fish we'd ever tasted. (The salt had created a hard thick crust and completely sealed in the juices of the fish. The scales and skin easily peeled off with the salt crust.)
After dinner, attention turned to all the gifts brought in by our sponsors. Salt Life sent cool apparel…… Bimini Bay donated their top-notch eye-ware. Category 5 Outdoors from Slidell, LA provided high-quality soft baits (which we used with good success.) BIC Media of Baton Rouge sent hardcopies of their new book "Louisiana Sports Legends and Heroes," an excellent book on the great sportsmen of our state, one of whom was Dwayne Eschete a pro red fisherman.
With things winding down, sometime late-night, our free agent Chef Jacques Leonardi rolls in, accompanied by his assistant and attorney.
Of course, Louisiana would have to be represented by a real character. Chef Jacques reputation preceded him as well as the reputation of his restaurant, Jacques-imos – a legendary eatery in uptown New Orleans, a venue that carries the spirit of Mardi Gras all year long. (The emblem of Jacques-imos is a wild jester and it didn't take long to put two and two together.)
We were up too late to be fishing in the morning but Chef Jacques ignited another round of fun, the last thing we needed at this point, but going with the flow meant hanging with the jester and taking "one" for Team Louisiana -who'd be fishing with "On a Mission Fishin" Charters (quarterbacked by Capt. Jay Quiros.)
Team Louisiana got a late start of course but had a great day for we came home with the winning bull red. The best part was how it was caught. The day had been a little slow. There were a couple smaller reds in the boat but no bulls. We were fishing on the bottom in a deep channel around the mouth of the Mississippi (South Pass). Around mid-day Chef Jacques puts his beer down and announces he's going to lie down, that sometimes he fishes that way. Sure enough, laying himself out on the bow and hugging his pole, he left his line in the water. I kept an eye on him and it was looking like he was gonna start snoring at any point, but every few minutes, with eyes closed and without making any extra movement, he'd give a good twitch to his pole.
BAM! Reel screaming, he lurched up and was on his feet in a blink. We were are all laughing… until the big bull sounded and we realized we were in serious contention. After 20 minutes, it was 4th and goal. Chef Jacques ran up the middle, broke the plane and boated the monster. After a couple high fives, with no dancing and no taunting, he got back to the bow and resumed his nap. His clutch score might just have been another dream to him. I guess sometimes "less is more" with fishin …… and for this, I was in the presence of a master, the Drew Brees of the Super Gumbeauxl.
Second Half:
Walk-On's Bar & Bistreaux
Back up in New Orleans, a stone's throw from the Superdome and smack in the middle of Super Bowl madness, our whole crew – the captains, chefs, Lennie and Dan from Venice Sportsman's Lodge and the rest of us congregated in the massive tent that Walk-On's erected. There was zydeco pumping from the stage and the 610 Stompers were doing their thing and we were all laughing at them and laughing at ourselves with tourists standing around probably thinking they'd just landed on Pluto. All quite a contrast from the vast quiet of the Delta.
Using high-quality seafood generously sent by Mississippi's Deptartment of Marine Resources, Chef David, Chef Rob and Chef Jacques had taken the field with their best gumbeauxs and were now facing off for the Super Gumbeauxl title. Each had prepared their best. Votes were coming in and Florida was in the lead. It was looking pretty bleak for Louisiana and Mississippi then word leaked out that Chef Jacques' gumbeaux had been prepared by his soux chef. There was no Gumbeaux Commissioner in the house but still Chef Jacque was yanked from the game. When interviewed after, Chef Jacques said "no big deal, I win enough stuff anyway." I was proud of our chef and thought he should win the whole damn thing with that. At least, he'd just dropped us his secret ingredient: C'est la vie with a little attitude, a recipe for success in Louisiana, well at least at Jacques-imos.
Louisiana was left with the consolation of Chef David being a LA native. With the Super Gumbeauxl winding down, our smiling, wind-burned party dispersed, leaving for their home waters pumped for an offseason that was going to be a lot more "on" than "off.