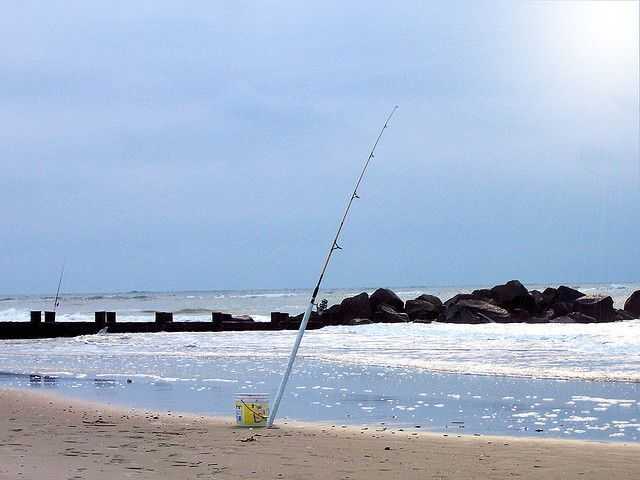 By Capt. Rodney Smith
With our country's 23 coastal states, and over 75,000 miles of coastline, it's easy to understand America's fascination with surf fishing. Alaska, Florida and California rank first, second and third for the most coastlines, while New Hampshire, Delaware and Maryland rank 21st, 22nd, and 23rd, with the least amount of shoreline.
It's a fascinating thought that thousands of surf anglers are exploring the extreme far corners of our nation's coast at any given time for a multitude of fish species. Twenty or thirty years ago there was very little written or mentioned concerning surf fishing in national publications, or on the ever popular fishing TV shows. Back then, only the wisest anglers were paying any serious attention to the many rewarding opportunities connected to surf fishing.
Today there is still a select group of anglers hunting their favorite beaches for trophy catches, be it a striped bass, flounder, shark, spotted seatrout, snook, tarpon or salmon. However, today there are a lot more not so serious anglers trying surf fishing; some to enjoy time outdoors in the fresh air and to take in the diversity of the sights, and others just looking to catch a fresh fish dinner. While the number of people living in coastal communities continues to increase dramatically, not everyone can live on or near the beach, and in fact, the vast majority of surf anglers drive to their favorite beachside locations to do their surf fishing. So the question, "What makes a great surf fishing destination?" is very important to any angler wanting to improve his surf fishing efficiency. In my opinion, one needs to consider a combination of several factors to determine the answer.
Accessibility is number one. If you can't get to the beach, you aren't going to be doing any surf fishing. I've been to a few excellent, but extremely isolated Third World surf fishing locations, and take it from me, no matter how good the fishing is there, you will need food, water and shelter to sustain your fishing!
Cooperative weather is also a must. How many days a year the weather lets you fish is number two. With surf fishing, more than most other types of fishing, the number of days you can fish will be determined by the quality of the conditions.
Also, the diversity of the catch; how many different species you can catch from a beach is an important factor in calculating what makes a solid surf fishing destination. Being a guide for twenty years, I learned the majority of anglers like mixing it up when it comes to catching different species; a wider variety of fish adds to the value of the trip.
But in the end, most anglers are going to fish certain areas because of personal preference. The foundation of this preference may be based in the angler's rapport with a local bait and tackle shop, his desire to fish close to home or perhaps his need to catch a particular species of fish. Without a doubt, this will vary from angler to angler.
There's a special value that comes with being able to call a local tackle shop that will share the latest surf fishing conditions with you. This can save you a load of time and effort, but also knowing how to gather the important information offered to us free in hourly NOAA weather reports, and using it to prepare for your next surf-fishing trip, is an awesome talent.
To step up your effort to become a more efficient and productive surf angler you'll need to understand the nuances of tides, swell periods, moon phases and seasonal migrations of both bait and game fishes. You also don't want to waste time targeting species with outdated tackle and tactics, or during the wrong season.
I'm not sure if I agree with the old adage, "The best way to catch more fish is to fish more often." I've always been a believer that the quickest way to learn to catch more fish is to fish with anglers who have more experience and success than you.