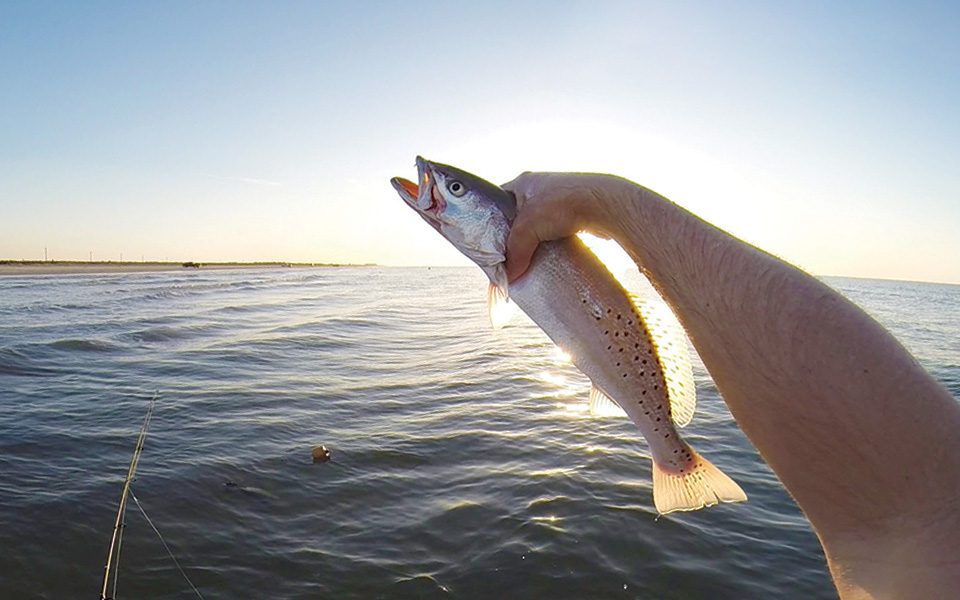 By Capt. Michael Okruhlik
We are all familiar with the phrase "surf's up," but I get more excited when I hear "surf's down!"
A flat spring surf is a rare occasion along the coast, but it's very welcome for those who pursue speckled trout along the sand.
May and early-June are my favorite times of year to seek trout in the surf. I focus on the beachfront during these months because the larger trout are more prevalent during this time frame. Trout in the 5- to 8-pound range are not uncommon, while trout under 20 inches are the exception. There are many productive tactics that can land you a hefty stringer of these speckled beauties, from live shrimp and finfish to an array of artificial lures. I prefer the latter, and here are some of my favorites.
Topwater is the best! There is no beating a topwater eruption as the sun is peeking over the horizon. I use a wide range of plug sizes and let the size of the seas determine what I throw. I like a larger heavier lure when the surf is rough and when it's flat, a small or large one is effective. Switching out the standard trebles to single circle hooks is a good approach to lessen the chance of injuring yourself. Bouncing around in the surf trying to land a stout surf trout can lead to an accidental hook in you. Singles also save time unhooking, which leads to more time fishing and catching.
Slow-sinking hard baits with rattles also make it into my box when heading into the suds. I like to cast these lures out and let them sink for a few seconds. Most of them have a relatively slow sink rate, so I give them a little time to get lower in the water column. A series of fast twitches followed by a pause usually draws their attention.
Many solid trout have fallen for the old faithful ¾- or 1-ounce silver spoon. The presentation is as simple as it gets. Cast and reel, that's it. This inexpensive lure is an attention getter for sure, and it casts like a bullet.
I typically start my day before sunrise. During the course of my wade, I will hit all structure from 1 foot deep out to 8 feet deep. I give equal attention to the depth of the guts to the top of the bars. I see a lot of fishermen go straight out to the second or third gut and stay there the entire time. You will miss many opportunities if you choose to do this. The fish are not always in that gut, and at times I only catch them on top of the bar.
Start early, broaden your target area, be safe and catch fish! Surf's Down!
Capt. Michael Okruhlik is the inventor of Controlled Descent Lures and the owner of www.MyCoastOutdoors.com