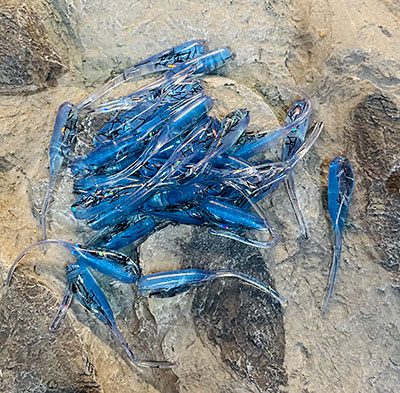 By Perry Hensley
Its late spring-early summer and most if not all the female crappie have spawned and are roaming, as they make their way back to the creek channels in the deeper waters. So Now What?
I'll tell ya—it's time to start trolling the bandit crank baits and maybe trolling or casting the 2.8 swimbaits for those hungry females that are chasing or following just below those baitfish schools. If you own a live sonar unit of any kind, it's the perfect time to target those aggressive females by using the spot-n-stalk method or, as many call it, sniping.
Don't be scared to try different methods to catch these fish. I myself admit I am new to this method, and it takes a bit to get your confidence built up, but once you start catching them in this manner I am sure you will love it as much as I do. For the best results, in my opinion, anchor or spot lock your boat facing the wind. This way you will be able to cast past the fish. Note: crappie face into the wind as baitfish/shad follow the wind, which I've discussed in previous articles.
Now! One may be able to target some schools on creek channel ledges or deep rock piles, points or stumps and brush. Make sure you cast your bait past your target bringing the bait just above the fish. In most cases you can see the fish turn on your bait and begin to follow it as you pull it by them. At this point it is very important that you continue to retrieve it without stopping the bait. I have stopped my retrieve several times and 99% of the time the fish stop chasing or turn and go back to the structure or school. Continue to reel the bait all the way back to the boat. Most times the fish will strike as the bait starts to climb in the water column, so hold on tight!
As far as baits and colors go on Douglas and Cherokee Lakes, here in East Tennessee, the preferred colors would be Chartreuse Pearl Glit'r, Topaz Shad, Tennessee Shad, Glim'r Shad and K'Jun Krit'r of the Slab Happy Lures brand of the 2.8 SlabTek Minnow. Although I am sure the Kietech, and others would work just as well also.
I hope that this method will help you put more fish in your boat as well as open your mind up to using different techniques and methods of catching these beautiful and tasty fish, but above all, I sincerely hope that you all take the time to get out there and enjoy what God has given us and do it with those you love.
Tight Lines and God Bless