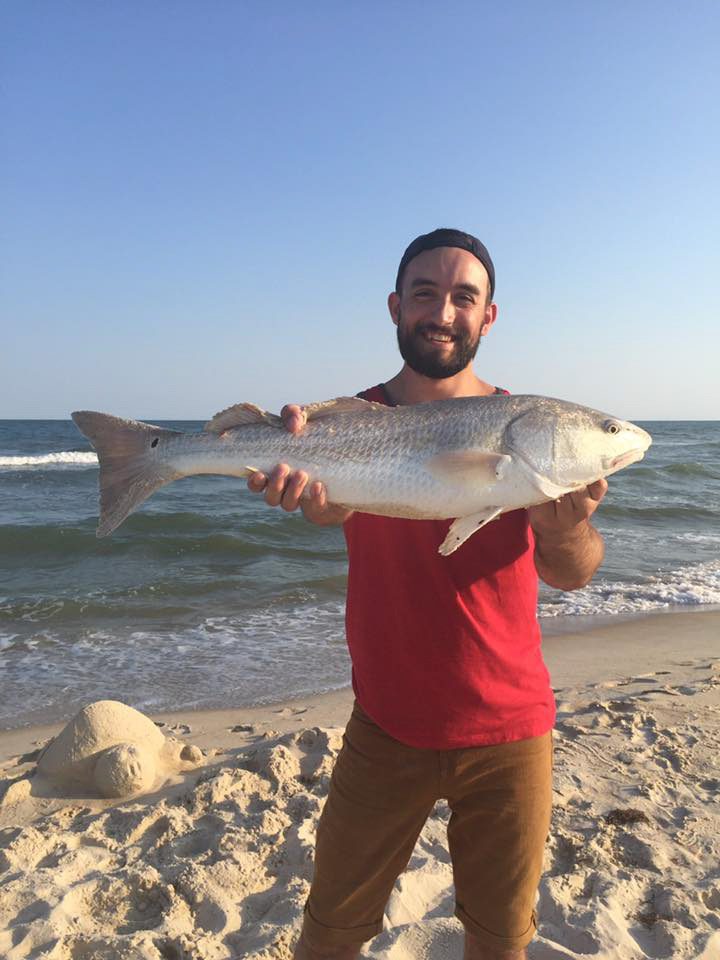 By Chris Beardsley
When targeting redfish, the beach isn't the first place most people think to look. It's easy to imagine casting topwater plugs, spoons, paddletails or a popping cork with a DOA to tailing reds in a grassy flat or hijacking a big bull on the edge of an oyster bar or jetty, but what about the beach?
Redfish or red drum are a highly sought after gamefish that can be found all along the Gulf Coast and up the Atlantic Coast as far north as Massachusetts. No matter where you fish for them, fishing from the beach requires different tactics.
The good news is that redfish will eat anything that won't eat them, and big redfish love cut bait. A 3-inch piece of ladyfish is a good start, but others prefer live baits such as menhaden. Of course cut bait is a magnet for stingrays and catfish, but more importantly sharks. You'll want to be prepared with at least a 30-pound mono leader or better yet, an 8- to 10-inch steel leader. Whether you choose live bait or cut, the typical fish finder or Carolina rig with a 2/0 or 3/0 circle hook is all you need.
Big drum pull especially hard in the surf. Typical hardware consists of an 8- to 10-foot medium-heavy rod and 5000 series reel. This combination provides plenty of backbone for chunking big baits but also provides enough cranking power for all but the largest fish. I have found that the rolling waves can work to your advantage, as the surf will often push the fish onto the beach. On the other hand, the undertow can work against you just as easily. Just be sure that whichever reel you choose has a smooth, powerful drag.
Depending on your location, the tide will affect conditions on the beach differently. In most cases, it won't have as much influence when fishing the surf as it might in shallower water around oyster bars or grass flats. My best success has been at high tide, which is contrary to most flats fishing, where low tide is preferred for spotting tailing fish. Look for deeper holes away from the beach or breaks in the sandbar. Deeper water is often preferred by bigger fish, and I like to cast to the far edge of the sandbar; the trough, or gut, just isn't as productive. This takes a little effort, and might require some wading to reach, but you'll greatly increase your chances of catching fish.
Later in the afternoon or early evening is preferred regardless of tide conditions. Of course, there are other, more willing fish out for dinner at this time too. This makes fishing for reds on the beach that much more fun, because like someone once said, "The surf is like a box of chocolates, you never know what you're gonna get." At least that's how I remember it.
Chris is a freelance writer from Wisconsin with an obsession for all things saltwater. He does most of his fishing on Florida's Forgotten Coast.