I caught this 30.75 inches Permit in The boils in Fort Pierce area.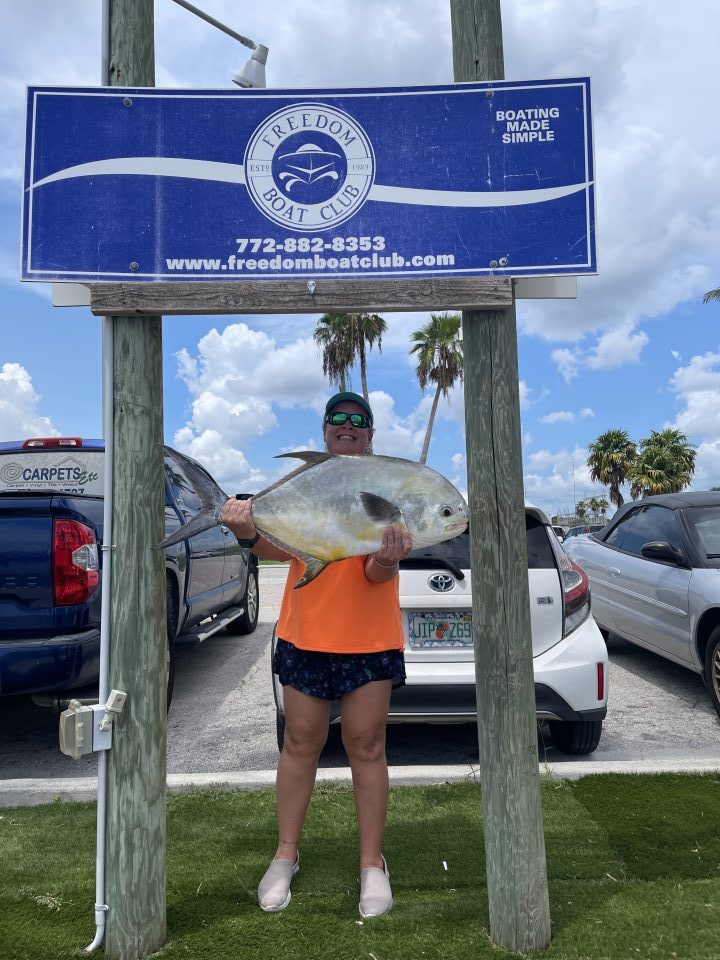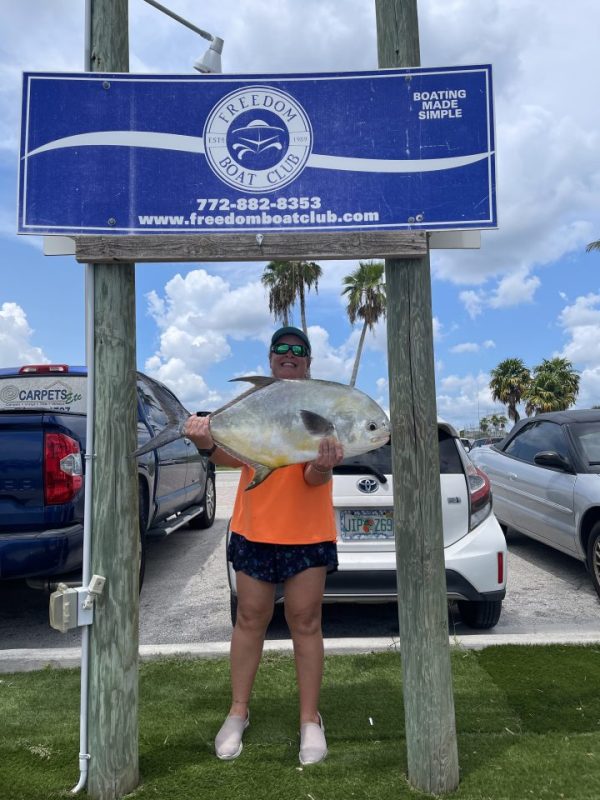 On August 5th, Tania and I were taking our good friends Darryl and Amy fishing. This was the first time Darryl and Amy came without their girls, so it was an adult fishing trip. We arrived at the docks at about 6:30 am with five dozen shrimp. Unfortunately, none of the bait boats had pilchards, so we were heading out without them. My buddy Darryl was here just a few weeks ago, and I told him not to expect the trip to be as good as the last one, as the fishing has been slow for us the past three weeks.
We were the first ones to arrive at the dock and the dock hands were walking up as I started to unload the car. They pulled our boat up right away and we were able to load up and get heading out pretty quickly. With the marine forecast of 5-10kt SW winds and 2ft seas at 11 seconds we decided to head to the boils.
We made it to the boils about 7:10 am and we were the only boat there. Tania is still hopeful of catching another permit, but with the low tide being at 6:25 am, the odds of catching a permit were low as we usually only catch them at the top of high tide. High tide usually brings clearer water, which increases our odds of catching a permit.
Since the boils were completely open, I decided to start our drift at the southwest end. Tania and Darryl both started with the 60g Nomad Buffalo slow-pitch jig and I started with the 95 squidtrex. Our drift was northeast, and just as we hit the boils the sonar lit up and we started to have some action. Tania caught the first fish, a short sennet I missed two decent bites and Darryl hooked up with something large. After about five minutes we saw he had a nice snook.
By the time we revived the snook the bite died off so we restarted the drift. Tania wanted to change jigs on this drift as she didn't get any bites on her favorite jig. I ended up putting on a different 60g slow-pitch jig. Once again when we hit the corner of the boils, we started getting action. Darryl caught the first fish on this drift. While he was bringing in his fish I hooked up. As I am fighting my fish Darryl got his fish to the boat and it was another big snook. Amy helped him land his snook and got ready to net my fish. When I got my fish to the boat it was another snook. I was amazed in the two drifts we landed three snooks all over 28 inches.
Before we finished our drift Tania caught a catfish. I could tell she was getting frustrated so I put on a squidtrex for her and we started another drift. As we repositioned another boat showed up. The boat set up with his trolling motor right along our drift. I was a bit frustrated, as it was going to mess up the good fishing we were having. Well, the other boat turned out to be very considerate as when he realized we were drifting he turned the boat and drifted also so we could keep fishing our drift.
Our third drift turned out to be a good one. Since Darryl already had two monster snook in the boat he let his wife Amy fish. Amy has never fished a day in her life. She usually just sits in the boat and watches us. But today she wanted to join in on the fun. She caught a small crevalle jack and she was excited. Shortly after she hooked up with something that had her holding onto the rod for dear life. About halfway through her fight, she was ready to give up, but Darryl and I coaxed her into keeping up the fight. When she got it to the boat it was the largest snook of the day. Not bad for Amy her second fish ever was a 30+inch snook. Not long after that I landed a decent size crevalle jack. At the end of our drift the other boat that showed up, pulled up next to us and asked what we were using for bait. The captain, Anthony, had just moved from up north and was learning the area. Since he was considerate of us drifting, I was happy to repay the kindness and showed him what we were using and told him how we were fishing. I love helping others catch fish.
On the fourth drift, a few more boats showed up and one boat did set up right where we were drifting over and this captain was not as considerate. That was fine though I just ended up drifting a little to the west of the spot. Not sure if it was, we weren't able to drift the same line or if the bite was just dying down but, on this drift, only Tania caught a fish. She finally caught a nice snook. I was so happy she finally caught a snook as I could tell she was getting frustrated that we all were catching them except her.
We did a few more drifts and we did not even get a bite so I moved a bit further east to try a drift. It didn't take long for us to start catching some snapper. On the first drift, we landed three mutton snappers, with Tania catching the largest one at 17 inches. We continued to move east towards the buoy and the bite became sporadic.
As the tide was coming in the water started to look nicer and nicer. At about 11:00 am Tania asked if we could go drift the buoy to see if any permit were around. Our first drift past the buoy proved to be unproductive; however, in the second drift, Tania hooked up and had the fight of her life. About three minutes into the fight Tania started to second guess herself and thought she was stuck on the bottom, but I assured her with the way the line went to the front of the boat in the direction we were drifting there was a fish on.
About eight minutes into the fight Tania was tired and contemplated passing her rod over, but I encouraged her to continue to fight the fish. I assured her she could do it and the fish was getting tired. About eight minutes into the fight the fish showed itself at the boat and it was one of the biggest permit we had ever seen. Unfortunately, once it saw the boat it made another run. Tania started to cry at this point as she didn't want to lose the fish and she was so tired. With continued encouragement, Tania continued to fight the fish for another few minutes before we got it into the boat.
Once the fish was on the boat, Tania was shaking. She was exhausted and needed a break. I dehooked the fish and put it into the cooler. It was so large it didn't fully fit into the cooler. What a way to end our day. On the ride back to the dock I said a prayer thanking the Lord for the blessed day on the water!
We ended up back at the dock at about 12:30 pm. We unloaded the boat and then I had the privilege of cleaning another permit. I caught my first permit in 2021 and then went until 2023 before we caught another one and this year, we have seven permits in the books.
Tania and I pray all who made it out this weekend had as good a weekend as we did. This weekend is going to be a hard one to beat. We also pray those who make it out this week have a blessed and safe trip with tight lines and good times!