Catching a cooler full of seatrout can sometimes be downright easy. Catching just one gator trout heavier than 5 pounds is a different story. If you want to catch gator trout consistently, you've got to target them.
The size at which a trout becomes a "gator" is a source of debate. Most anglers get excited about an individual heavier than 5 or 6 pounds. On the other hand, anglers who have learned to target truly large seatrout are looking for that lifetime fish that stretches a tape 28 to 30 inches or longer. Just to put it all in perspective, the IGFA All-Tackle World Record weighed a whopping 17-pounds, 7-ounces. It was caught on Florida's Atlantic coast at Fort Pierce, Fla. in 1995.
Florida's Atlantic coast appears to be the national hotbed for giant trout. But regardless of where you fish in the spotted seatrout's range throughout the Gulf and all the way up the East Coast to Massachusetts, larger individuals of the species show the same tendencies.
Once trout get big enough that their diet shifts from mostly shrimp to mostly finfish, they become more solitary. That's not to say there won't be a few large trout hanging out together. They are ambush predators and lazy by nature. They like current, where tides bring a continual buffet to them, and seek out structure or cover to hide and nearby deep water for escape from predators. During the summer months, the edges of sandy potholes on grass flats are prime habitat. Drop-offs, cuts, docks, bridges and jetties will also hold big trout. A key is these areas also attract bait.
Shrimp is the most widely used bait for seatrout, and it'll catch the big ones when presented right in front of their noses. But when shrimp aren't running, an angler is better off fishing with a larger protein package. Finger mullet or pinfish in the 5-inch range are big bait that will tempt a gator out of inertia. However, taking a big trout's skittish nature into account, artificials might be an even better idea.
In the shallow waters they inhabit, boat wake, vibrations through the hull or even water movement caused by a rocking vessel are enough to spook an old trout into lockjaw. For this reason, sight fishing for them is not as effective as blind casting. Artificials like 5- to 6-inch jerkbaits and big soft plastics can be cast long distances repeatedly with little fuss. Large gurgling or popping topwater plugs are another good option, and the added commotion draws attention. By making long casts, you lower the risk a gator trout will sense you before you can put a bait in front of it. By the same token, wading or fishing from an inconspicuous vessel like a kayak are good ways to sneak into the shallows where big trout live.
Some final pieces of advice for targeting gator trout: Fish during low light or at night when they feed the most. A lighted dock should not be passed up. Find areas that are tough to access, where fishing pressure is limited, and slow down your presentation to keep the bait in the strike zone longer.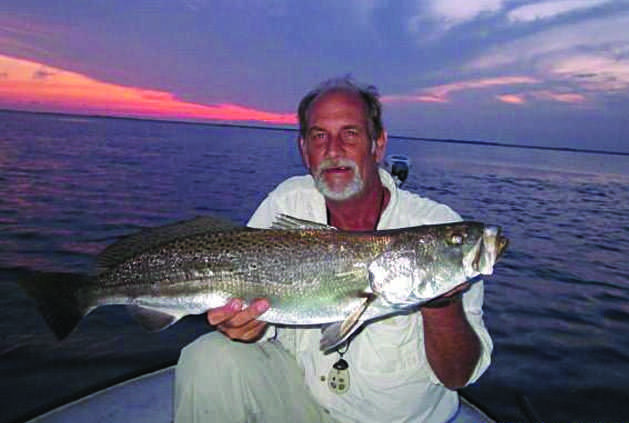 Have you ever caught a Gator Trout? What are some methods you deploy when targeting Gator Trout?
[easy-social-share]